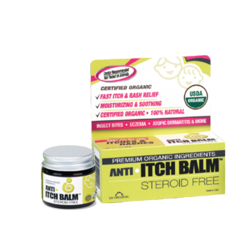 FDA registered OTC drug, Anti itchbalm, is USDA organic certified. Anti itchbalm provides fast and effective itchy skin and rash relief.
Bergen County, New Jersey (PRWEB) May 21, 2013
The first ever over-the-counter anti-itch ointment remedy to carry the USDA Organic Certified Seal, Anti Itchbalm, is ready to come to pharmacies and drug stores across the country. It's an innovative and effective product which will help attract more customers to independently owned pharmacies looking to better serve their community.
US Organic Group Corp. has developed Anti Itchbalm with 100% pure, all-natural and organic ingredients. It can be safely used on both adults and children, effectively soothing bug bites, reducing redness and inflammation, supporting healing and relieving pain from insect bites, skin irritations and small cuts.
Currently, US Organic is offering free shipping for Anti Itchbalm. US Organic is also currently looking for sales reps and wholesalers to help distribute their innovative anti-itch product, Anti Itchbalm.
There are few OTC products or drugs of any variety which have been certified as organic by the USDA. FDA-registered Anti Itchbalm is the first balm-typed remedy for itchy skin to carry such certification, setting it apart from the competition, and providing a solution for the growing number of consumers looking to maintain an organic, natural and healthy lifestyle.
It meets a unique need in the marketplace and comes at the perfect time, as more people across the country are seeking all-natural alternatives for drugs, medicine and foods. Anti Itchbalm capitalizes on this and uses carefully honed techniques based on centuries of medicinal usage of herbs and essential oils.
Anti Itchbalm provides fast and effective itchy skin and rash relief, providing moisturizing and soothing benefits. It can be used for quick relief when it seems like nothing can stop the urge to itch skin caused by Eczema, minor burns and sunburns, cuts and scrapes, insect bites and atopic dermatitis.
It is a steroid-free, all-natural anti itch treatment, with an active ingredient of peppermint oil, and it's an innovative solution which will get the job done.
More information about Anti Itchbalm, its recommended usage and full drug facts and specifications can be found online at AntiItchBalm.com.
About US Organic Group Corp.
US Organic Group Corp. was founded in 2011 by Leonard Moon. Based in Bergen County, New Jersey, the company strives to provide high quality, effective and safe products which are in harmony with nature, using only natural and organic ingredients. They have developed the innovative Anti Itchbalm, the first-ever balm-typed OTC drug for itchy skin with the USDA Organic Certified seal. Anti Itchbalm helps relieve pain, redness and itching caused by insect bites, skin irritations and small cuts. More information can be found at http://www.antiitchbalm.com, and Mr. Moon can be contacted directly at mij3461(at)us-organic(dot)com.