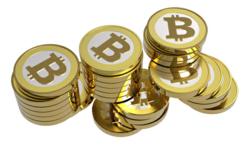 Bitcoins news widget by ForexMinute is customizable and can be used by Forex brokers to provide their trader partners the latest news about this global digital currency
London, UK (PRWEB) May 21, 2013
ForexMinute has brought in Bitcoins News Widget for brokers and traders; this can be used by brokers to provide the latest information to traders and visitors. In the turmoil Bitcoins trading where every day is unpredictable and uncertainties aplenty, traders are hungry for the latest Bitcoins news and updates. Still a child in the global currency market, Bitcoins has made great inroads and has become subject of interest and fear as well among traders.
Bitcoins news widget by ForexMinute is customizable and can be used by Forex brokers to provide their trader partners the latest news about this global digital currency. Moreover, as the Bitcoins News feeds are customizable these can be tweaked as per the specific requirement. The widget can be used for providing the latest happenings in Bitcoins market, including the current Bitcoins exchange rates, charts, fundamental trends, etc.
Although Bitcoins trading is profitable, recently several developments in the global finance market have generated fear among traders e.g. recent seizure of fund of Mt. Gox by Homeland Security. Jonathan Millet of ForexMinute reported, "US Homeland Security announced to seize funds of Mt. Gox account, the world's leading Bitcoin exchange, the value of bitcoin dropped more than 10 percent overnight."
It is because of all these events, traders wish to get updates and read Bitcoins news, with the Bitcoins news widget, brokers can provide the excellent feature for their partner traders.
About ForexMinute
ForexMinute, the world's leading Forex news and views portal, has become a one-stop solution provider for Forex traders and brokers as well as Bitcoins news. It provides all the required tools to individuals to become a professional Forex trader. Also, it helps Forex brokers provide high-end user-friendly trading experience to traders with an array of resources e.g. financial news by the minute, fundamental analysis, technical analysis, Forex tools and others.
For more information, visit http://www.forexminute.com or call +1 800 758 5780.
You can have the ForexMinute newsletter delivered to you each trading day. Simply sign up today. You will be kept up to date on the latest market action. It's free and simple -http://www.forexminute.com/newsletter.