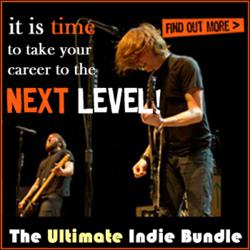 Ottawa, ON (PRWEB) May 21, 2013
Big Meteor Publishing, publishers of the Indie Bible, The Indie Venue Bible and the Indie Bible ONLINE have launched an affordable resource for artists and songwriters that will help their careers to continue to move forward during these difficult financial times.
Big Meteor has combined all three of their directories into ONE resource called ULTIMATE INDIE BUNDLE. The Bundle is a Groupon type promotion that allows artists with a limited budget to continue building their career.
The ULTIMATE INDIE BUNDLE combines all three of Big Meteor's music directories, but sells for the price of one.
President of Big Meteor Publishing, David Wimble stated that "it became very apparent the last several years that many artists' main concern had turned towards putting food on the table, paying rent and buying clothes for their children. Buying tools to help boost their music career no longer registered on their scale of needs.
"We felt something had to be done to counter the devastating effect the recession has had on the music industry. By creating this affordable, yet powerful resource, we are able to survive as a business and independent artists with a limited budget are able to keep their careers alive and moving forward."
The Bundle will help artists to get radio airplay, music reviews, spotlight features, video airplay, distribution, signed to a record label, find managers, PR services & publicists and much more. Also included are 32,000 Venues, Festivals, Colleges and Booking Agents throughout the US and Canada where independent artists can book shows.
For more information please visit http://www.indiebible.com/bundle.
For press inquiries contact:
David Wimble david(at)indiebible(dot)com
Phone: 613-596-4996