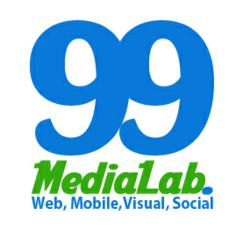 This is a top-of-the-line service for top-of-the-line business owners.
Stafford, VA (PRWEB) May 21, 2013
According to online marketing experts, blogging is one of the important things any business can do to boost its organic search engine optimization efforts, and thanks to a new service being offered by 99MediaLabs ( http://99medialab.com ), businesses across the globe will now be able to receive a custom blog design and development services at a competitive fee.
"We all know that content is king, but we also know that people are more visual these days, so now we're offering to provide businesses with a custom blog design to ensure that their content not only reads good, but also looks good or is visually appealing," said Piyush Mangukiya, managing partner of 99MediaLab LLC, a full service web design and digital marketing company developing websites, implementing internet marketing and performing SEO for small businesses, startups, brands, causes and celebrities.
"Although content is king, Google wants to know that your site is a quality site and part of the equation is the overall appearance of the site," Mangukiya stressed, before adding, "Original content, images, designs, etc., produced by a company or person adds value to Google searchers and simultaneously reinforces the creator's brand, drives conversion and boosts strategic SEO. With our blog design and development, businesses will be the apple of Google's eye, guaranteed."
99MediaLab's blog design, according to Mangukiya, is completely compatible with the latest Smartphone application development technologies.
"This is a top-of-the-line service for top-of-the-line business owners," Mangukiya said. "Businesses receive a lot of value once they say yes to our blog design and development services. Give our blog design and development services a try. We promise that you won't be disappointed. "
For more information, please visit: 99medialab.com/custom-blog-design/ and 99medialab.com/virginia-web-design/
About 99MediaLab LLC
99MediaLab LLC is an industry leader in the world of ecommerce website design, internet marketing, mobile app development ( 99medialab.com/mobile-apps-development/ ), print design, search engine optimization, and all-around digital marketing.
With our Web Design, Development, Marketing and Branding services, we can take your business to the next level.
Our teams work together to develop websites that are not only visually compelling, but have the functionality and advanced programming to deliver leads, clients and revenues.
Contact Details:
99MediaLab LLC
115 Onville Road, Suite 201 Stafford, VA 22556
Tel: (703) 563-2571
Source: 99MediaLab LLC
###