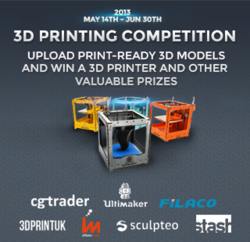 A 3D printer without a 3D model marketplace is similar to an iPhone without an App Store
(PRWEB) May 21, 2013
"3D printing is called the next industrial revolution and is about to change the way manufacturing works. However, 3D printing requires 3D models, and 3D modeling skills are difficult to acquire. We believe that there is an unexpected gap between the 3D printing industry and professional 3D designers - and CGTrader has a great opportunity to help the 3D community interact more with this booming technology. Professional 3D designers are in the best position to create the next big thing in 3D printing, and this competition aims to encourage them to enter this industry." - says Marius Kalytis, CEO and founder of CGTrader.com.
CGTrader's 3D printing competition has attracted not only 3D artists' attention, but also the top sponsors in 3D printing. The winners of the competition will receive two 3D printers by the leading printer manufacturer Ultimaker. The world's largest 3D printing store iMakr will provide an opportunity to sell and showcase the winning models in their shop in London. 3D Print UK, a company that brings a fun and friendly face to the UK printing scene, has already prepared their facilities to print the best 3D models out. Other sponsors include provider of 3D printing filaments FILACO, the giant in the 3D printing arena Sculpteo, and Stash Media that provides breathtaking inspirational 3D content.
The designers are free to upload any models they like - as long as they are 3D printable and are submitted before June 30th. However, items of questionable legal status, such as 3D printable guns - including the notorious Liberator - will not qualify for the competition.
According to Marius Kalytis, creating an ecosystem of professional, high-quality 3D models that can be bought and sold is crucial for growth and mainstream adoption of 3D printing. "A 3D printer without a 3D model marketplace is similar to an iPhone without an App Store. This competition is a milestone for CGTrader, and a small, but important step towards the future of 3D printing." - says Marius Kalytis.
CGTrader was launched in 2011 with a vision to democratize the rapidly growing 3D model market. In order to develop the business, in early 2013 CGTrader has raised 185K Euro from venture capital fund Practica Capital. In May 2013, the company reached the milestone of 14,000 3D models uploaded to CGTrader.com.