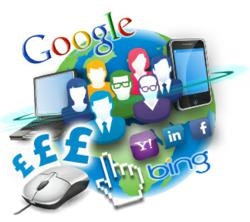 We love hosting events like these because it demonstrates what we do best and it helps our customers grow their business by understanding the tools they have at their fingertips.
(PRWEB) May 23, 2013
The face of paid search has changed dramatically in the last decade and is about to change further on the 30th of June with Google's biggest update to AdWords since 2000.
Pay Per Click (PPC) is now an integral part of the vast majority of business' online marketing strategy with businesses worldwide utilising the power of paid search to build brand awareness or drive highly relevant traffic back to their websites.
With Google's AdWords about to significantly change all of its accounts on the 30th June with the introduction of Enhanced Campaigns, Intergage will be delivering a free seminar for local businesses on the 26th June to explain what these changes mean for them.
Web Marketing Director, Jo Lynes, said: "Events like this are of tremendous importance to local businesses because they provide them with all the tools they need to achieve success in paid search."
"We provide the session free for our subscribing clients because it gives us the opportunity to understand their needs and we want our clients to see us as more than just a Web design agency. We want to help our clients grow using the online marketing expertise that we have developed" she added.
The seminar will take place at the Bartley Lodge Hotel in the New Forest, Hampshire. Businesses from Dorset to Hampshire will be invited to attend the special event.
As well as covering Enhanced Campaigns, the Intergage Web Marketing team will cover all of the other key aspects of paid search, giving attendees a rundown of all possible avenues available within the world of PPC advertising.
Areas that will be covered include:

Google AdWords Enhanced Campaigns
Google AdWords Display Network
Google AdWords Remarketing
Social Media Advertising - Facebook and LinkedIn
And an update from sister company - Tasty Marketing
All of these areas are crucial to any business wishing to succeed with paid advertising and, combined with an effective organic search (SEO) strategy and optimal use of social media, will ensure that businesses attending will achieve their aims in digital marketing.
Intergage is the complete Web marketing partner in this respect because it can assist businesses throughout the UK with their entire online presence.
Managing Director, Paul Tansey, said: "We love hosting events like these because it demonstrates what we do best and it helps our customers grow their business by understanding the tools they have at their fingertips."
"We want our customers and potential customers, to see us as an honest and friendly company of people who know what they're talking about. In this instance this seminar will show off our expertise with paid search and I'm sure it will be a huge success" he added.
A similar event around the emerging platform of content marketing took place earlier in the year and was a resounding success, so this event will surely be just as popular. Interested parties are advised to book early to avoid disappointment.
All Intergage clients will be invited to attend. If you're not an Intergage subscriber but you wish to attend as a guest there will be a cost of £75 +VAT per person. Anyone interested in cementing their place for the event should click here.
If you have any questions about this seminar, other seminars or how digital marketing agency Intergage could help your business with its paid search campaigns please contact Marketing Manager, Emma Barrow, on 0845 456 1022.
Notes For Editor
About Intergage
Intergage Ltd is the complete Web marketing partner, a leading UK digital marketing agency that continues to expand and recruit the brightest staff. It currently has two offices in Poole, Dorset and Chandler's Ford, Hampshire.
All Intergage services have a clear focus on providing their customers with a return on investment from their Web marketing.
Intergage Web marketing services include:
Designing and building websites that enable clients to manage their own content using the unique Intergage Content Management System (CMS).
Planning and managing Search Engine Optimisation (SEO), Pay Per Click (PPC) advertising, Digital PR and Social Media Marketing needs to ensure your site receives and successfully converts a steady stream of customer enquiries.
Comprehensive Web marketing training to empower you and enable you to manage SEO, PPC, Social Media and the Intergage Content Management System.
Intergage is committed to a long-term relationship with each and every client and is constantly seeking ways to improve your website results.
Intergage boasts more than 300 clients. Having started the business over 10 years ago, Directors Paul and Gareth Tansey are proud to have retained at least 95 per cent of clients year on year.
For more information about Intergage, any of the services it provides or just to have a friendly chat with a team member, please contact Marketing Manager Emma Barrow on 0845 456 1022.
Intergage Ltd (Dorset & Head Office)
Unit 8, Holes Bay Park
Sterte Avenue West
Poole
Dorset BH15 2AA
UK
Tel: 0845 456 1022
Tel: +44 (0)1202 684009
Fax: +44 (0)845 456 0722
Intergage Ltd (Hampshire Office)
3a Westlinks
Tollgate
Chandlers Ford
Hampshire SO53 3TG
UK
Tel: 0845 456 1022
Tel: +44 (0)23 8064 7005
Fax: +44 (0)845 456 0722