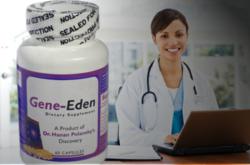 when scientists figure out a way to increase the number of these immune cells, we could prevent herpes outbreaks, and the transmission of the herpes virus. - Mike Evans, polyDNA
Rochester, NY (PRWEB) May 20, 2013
A special type of immune cell helps keep the genital herpes virus in check. However, when the number of these cells decreases, the herpes virus begins to spread in the body. This is according to an article in the Canadian Free Press published on May 19th, 2013. (1)
These cells are called DEJ CD8αα+ T cells. Dr. Larry Corey, whose team of researchers discovered them, says that "Doctors previously told patients that it was possible to have an active sex life if they avoided sex while herpes lesions were still present." (1) But, the researchers went on to warn that people should avoid sex even if they don't have visible genital sores, if they feel unwell, as if a cold was starting.
This means that even if the individual is not suffering a visual outbreak of genital herpes, he or she could still infect their partner. "This is not good news for patients who suffer from genital herpes."(1)
However, the discovery of these immune cells is not all bad, since it also provides a new opportunity for treatment. According to a study in the journal, Nature that was published on May 8th, 2013, "Enhancement of the quantity and the function of tissue-resident CD8αα+ T cells may potentially be a mechanism for improved immunotherapeutic treatment and for prevention of HSV-2 reactivation in humans." (2)
"What this technical information is saying is that when scientists figure out a way to increase the number of these immune cells, we could prevent herpes outbreaks, and the transmission of the herpes virus. In other words, if the immune system is strengthened by increasing the numbers of these T-cells, we could prevent the latent herpes virus from waking up and attacking again." – Mike Evans, polyDNA
While this research continues, there is another way individuals can boost the immune system. polyDNA recommends that the public educate themselves about Gene-Eden-VIR, a natural herpes remedy. Each ingredient in Gene-Eden-VIR is antiviral and is effective against the latent herpes virus.
This claim is backed by the fact that a recent post marketing clinical study showed that Gene-Eden-VIR is safe and effective. Up to 70% of those studied reported a decrease in herpes symptoms. (3)
Each ingredient of Gene-Eden-VIR was chosen through a scientific approach. Scientists scanned thousands of scientific and medical papers published in various medical and scientific journals around the world to identify the safest, most effective natural ingredients that target the latent forms of both HSV-1 and HSV-2. (4)
To learn more about Gene-Eden-VIR, visit http://www.gene-eden-kill-virus.com.
References:
(1) http://canadafreepress.com/index.php/articles-health/55304
(2) http://www.nature.com/nature/journal/vaop/ncurrent/full/nature12110.html
(3) http://www.cbcd.net/Gene-Eden-VIR-Clinical-Study.php
(4) http://www.gene-eden-kill-virus.com/studies.php
polyDNA is a biotechnology company that develops dietary supplements using the unique scientific method developed by Dr. Hanan Polansky, which is based on Computer Intuition.
In addition to his unique scientific method, Dr. Polansky published the highly acclaimed scientific discovery, called Microcompetition with Foreign DNA. The discovery explains how foreign DNA fragments, and specifically, DNA of latent viruses, cause most major diseases.
polyDNA developed Gene-Eden-VIR , an antiviral natural remedy that helps the immune system kill latent viruses.