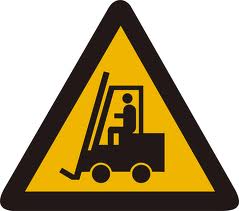 Having received no formal training, Mr Wain lacked the expertise to allow him to use the machinery safely, culminating in the fork lift truck accident he suffered.
Bolton, UK (PRWEB UK) 23 May 2013
According to the fork lift truck association, one person is killed in a fork lift truck accident every six weeks (1). The 2nd of May saw a verdict reached in David Wains' favour (Bradford & Keighley Magistrates Court – case number 1300304923) for a Forklift Accident Claim against Emballator UK Ltd. While Mr Wain's accident wasn't fatal, it has left him permanently disabled, with the prospect of amputation imminent (2).
As reported in the 'Telegraph & Argus' while using a fork lift truck, Mr Wain saw the pallet becoming un-balanced; unable to escape, the full load fell on top of him, with his foot becoming trapped. The accident culminated with part of Mr Wain's big toe being severed, with the sole of his foot split.
Despite receiving extensive surgery, Mr Wain can no longer move his foot or walk on it. In consideration of his options Mr Wain surmised that he would prefer to have his lower leg amputated, giving him the opportunity to have a prosthetic limb fitted (2).
Having received no formal training, Mr Wain lacked the expertise to allow him to use the machinery safely, culminating in the fork lift truck accident he suffered. Had he been provided with adequate tuition, his accident may have been entirely preventable (2).
Asons executive Thomas Fairclough, commented as follows -
"Employers have a 'Duty of Care' to ensure they provide a safe working environment for their staff: making sure frequent health and safety assessments are completed, ensuring that their working practices comply with current regulations and that where required full training is provided.
"Had Emballator UK Ltd. been more diligent, chances are Mr Wain would not be in the position he is in now. In cases such as this, industrial accident compensation can be sought and achieved, atoning for any loss of earnings, costs for therapy, treatment and care."
Asons Solicitors have a wealth of knowledge and expertise relating forklift accident claims; priding themselves on the provision of first-class legal advice and support. Asons regularly provide advice to those seeking industrial accident compensation.
If you, or someone you know, have suffered from a fork lift truck accident that could have been prevented, contact Asons solicitors today to find out what kind of help is available. Contact Asons on: 0844 850 1062 or fill out a claim form at http://www.asons.co.uk
(1) fork-truck.org.uk/safetyweek09-about
(2) thetelegraphandargus.co.uk/news/10393500.Bradford_factory_fined___12_000_after_worker_s_foot_crushed_by_falling_metal/

About Asons Solicitors:
Asons Solicitors is a Bolton-based law practice that specialises in personal injury and industrial disease claims. Founded by brothers Imran Akram and Kamran Akram, Asons Solicitors has developed to become a young and dynamic law firm that delivers practical solutions to clients in times of difficulty. Their continued focus on their staff has seen them awarded with the Investors in People "Gold Award"; which is reflected in the professional and personable approach they take in working with clients. They strive to grow and to develop, and their supportiveness and attention to detail ensures that their clients use them time and again.
For further information contact:
Email: info (at) asons (dot) co.uk
Website: http://www.asons.co.uk