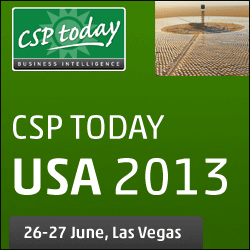 London, UK (PRWEB UK) 22 May 2013
The Ivanpah Solar Electric Generating System is set to be commissioned in 2013 and delegates will be able to get an exclusive first look at the facility on the morning of 25 June. Jack Ahearne, the organizer of CSP Today USA, announced the news on Wednesday 15 May. "With Ivanpah coming online this year, interest in seeing the plant has been enormous, not only in the United States but around the world," he said. "We are delighted to give CSP Today USA attendees the chance to tour the plant and see a key milestone in the progress of the CSP industry."
With a power output of 392MW (gross), Ivanpah will be the largest CSP project in the world once it is commissioned this year. The size of the plant site is approximately 3,500 acres, and the solar field consists of 170,000 low-impact heliostats.
In a recent interview with CSP Today, Joe Desmond of Brightsource Energy highlighted the importance of the Ivanpah project, explaining that it will "demonstrate how large scale CSP systems operate, which is important for proving the technology from a technological viewpoint." Desmond concluded that the lessons learned during construction "have been applied as the project has progressed through from Unit 1, Unit 2, and Unit 3, and has contributed to driving down the costs, all which are vital to ensuring CSP is successful in the future."
NRG Energy, the largest investor in the project and operators of the plant through its wholly owned subsidiary NRG Energy Services, will take attendees on an exclusive tour of the facility. To see more details on the site visit, as well as CSP Today USA 2013, please visit:
http://www.csptoday.com/usa/site-visit.php
Or contact Jack Ahearne by email at jack(at)csptoday(dot)com.