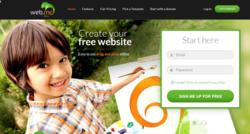 Web.me is easy drag & drop website builder with first Pay as You Want option for standard package - says co-founder and CEO of web.me Marcin Zmaczyński
London (PRWEB) May 21, 2013
Goal
Web.me, an innovative new website building service, has an ambitious goal – to make building a website so easy and affordable that every business and individual can do it.
Tools
The website creator is equipped with a wide range of design templates and an intuitive drag and drop editor that makes building a website as easy as building a PowerPoint presentation.
Packages and Pricing
There are four different packages designed to meet every need.
The Free package will fulfill basic needs and supply basic features – including one free subdomain and 3 pages.
Pay As You Want provides standard options and removal of ads on the site. This package takes friendly to a new level, allowing customers to choose any price from $1 to $9 a month.
The Business package offers all the features of the first two packages plus a free domain, premium templates and unlimited pages for just $19 a month.
The Premium package suits more demanding business owners. It includes a mobile editor to build professional and great looking mobile sites for $29 a month.
Both Business and Premium packages offer Ecommerce widgets including Google and Paypal Cart and Buy Now.
Brand Hero
Leo the chameleon, the Web.me brand hero, was inspired by the way packages can be changed easily to satisfy increasing or changing needs. Leo lives on the pages of the web.me interface to help guide users through the experience.
"I think we bring some welcome change to the website creation market. We offer the industry's first and only Pay As You Want option," says web.me co-founder and CEO Marcin Zmaczyński. "We have also implemented a multilingual live chat option right in the editor so users can always ask for help while creating their sites. That will be available in English, Spanish and Portuguese initially."
Zmaczyński explained the choice of the domain name, "We chose the .me extension because we think it does a great job communicating how unique and personal a website should be. It also allowed us to secure a short, wonderful and memorable name!"
CEO of .ME Registry, Predrag Lesic stated, "We are very excited about the launch of Web.me and feel this is one of the most perfect uses of a .ME domain. Our mission is to create a space online for everyone and this service makes it easier for users without coding skills to create and control their own website as well as to personalize it on every level.
Lesic added, "The allocation of web.me is yet another validation of our .ME premium name development program that was created to match the right domain name with the product or service that fits it perfectly."
For more about Web.me packages and features, visit our site.