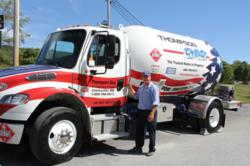 Hagerstown, MD (PRWEB) May 21, 2013
For many people across the country, Memorial Day marks a day of sun, fun and barbecues. But ThompsonGas, the 18th largest propane service providers in the U.S., is reminding the public the true meaning of Memorial Day. In honor of the many U.S. military men and women who have sacrificed their lives defending freedom, ThompsonGas is donating $1,250 to the USO.
The Fuel for Freedom program helps troops and their families receive more of the support they deserve. As part of the program, ThompsonGas has added a number of Freedom Trucks — American flag themed bobtail trucks in red, white and blue — to their propane delivery fleet. For every gallon the Freedom Trucks deliver to customers, ThompsonGas donates one cent to the USO. The trucks are available for community events and parades, and can be seen delivering propane throughout the neighborhoods that ThompsonGas serves.
"These brave men and women support our day-to-day freedom," says ThompsonGas President/CEO and U.S. Marine Corps veteran Randy Thompson. "We are proud to provide opportunities that improve their lives and their families' lives through our propane services. Donating a portion of our sales is the least we could do to help."
For more than 65 years, charitable giving has played an important part in the ThompsonGas family. The propane gas distributors have created educational funding and volunteering opportunities for employees. Their pink bobtail trucks help raise money for the American Breast Cancer Foundation. In addition to the USO donation, the ThompsonGas Boonsboro, Md. location is offering customers 30% off on filling their propane tank through May 31, 2013. For every tank filled, ThompsonGas will donate another $1 to the Fuel for Freedom program.
"We understand the sacrifices of today's warriors, and we know they need our support," Thompson adds. "We have done a lot to support the U.S. military and their families throughout the years. We hope these donations allow the USO to continue improving the quality of life of more than 2.5 million troops, retirees and their family members."
About ThompsonGas:
With headquarters in Hagerstown, Md., ThompsonGas is among the fastest growing propane companies in the country. ThompsonGas' operations include the retail marketing, sale and distribution of propane to residential, commercial, industrial and agricultural customers. Today, ThompsonGas serves approximately 190,000 retail customers from more than 51 customer service centers throughout the U.S. ThompsonGas also operates a propane rail terminal in Baltimore that serves independent dealers and multistate marketers in the Mid-Atlantic region. To learn more, visit the company's website at http://www.thompsongas.com.
About the USO:
The USO provides critical support to those who need it most — troops serving in combat, military families, wounded warriors and their families, and the families of the fallen. The organization extends a home away from home for troops, keeps them connected to their families and provides hundreds of entertainment events each year. A nonprofit, congressionally chartered, private organization, the USO relies heavily on the generosity of individuals, organizations and corporations to supports its activities. The organization has 160 locations in 27 states and 14 countries. Learn more by visiting http://www.uso.org.
# # #