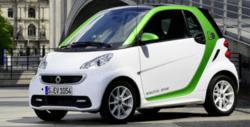 The Tokyo Motor Show has built a reputation for featuring some of the most cutting-edge concept vehicles.
San Jose, CA (PRWEB) May 20, 2013
Nov. 22 Opening for Tokyo Motor Show
The 2013 Tokyo Motor Show, one of Asia's most important industry events, will run from Nov. 22 until Dec. 1. The first day for public attendance will be Nov. 23. The event will occupy every hall in the city's enormous exhibition center, nicknamed Tokyo Big Sight. In addition to 18 non-Japanese car brands, the host nation will be represented by all 14 Japanese manufacturers. The 2011 show drew upwards of 850,000 attendees and media representatives from more than 70 countries. The Tokyo Motor Show is held every two years. For the complete story, see:
http://www.myperfectautomobile.com/toyota/tokyo-motor-show.html
Volt Sticker Price Could Drop by $10K
General Motors CEO Dan Akerson has hinted that the next generation Chevy Volt might be priced as much as $10,000 less than the current base sticker of $39,995. During a recent industry event, Akerson also noted that the future version of Volt would likely be lighter and more profitable. A $10K price cut would put the Chevy Volt smack in the middle of competitors' EV price profile. Ford, Toyota and Nissan already offer electric vehicles that straddle the $30,000 price point. For the complete story, see:
http://www.myperfectautomobile.com/general-motors/chevy-volt-price-2.html
Audi to Offer EV by 2015
Automotive media sources in Germany are reporting that Audi is planning to create a competitor to Volkswagen's e-Up and hopes to have the new vehicle on the market by 2015. Audi is also hoping to outdo the e-Up in terms of range and power, intending to offer 125 miles of range and 114 horsepower on its prospective premium EV. Other reported specs include a 0-62 mph time of 9.3 seconds and a maximum speed of 93 mph. Volkswagen's e-Up has a 93-mile range and an 81-horsepower rating. Pricing estimates put the VW e-Up around the $23,000 mark and the Audi EV at approximately $39,000, though both figures are unconfirmed. For the complete story, see:
http://www.myperfectautomobile.com/audi/audi-electric.html
About MyPerfectAutomobile:
MyPerfectAutomobile (MPA), a California-based news source for the hybrid, electric, and alternative-fuel transportation sector, covers breaking news on the green car front.
The MPA flagship website has grown into a major presence on the Internet. It features a complete shopping mall as well as a free-to-list classifieds section for all things green. For advertisers, MPA offers the chance to be in front of over 20,000 readers each month who are interested in hybrids and electric vehicles, as well as sustainable transportation in general.
Bob Twaalfhoven: President and Founder of MPA, is an MIT-educated engineer whose primary interest is planetary sustainability.
Larry Judkin, General Manger and Sales Coordinator, has tasked himself with taking MPA to the number-one spot among green transportation websites.
Contact MPA:
Box 18846
San Jose, Calif. 95158
For advertising opportunities, contact MPA directly: Phone: 866-520-5558 Email: driven(at)myperfectautomobile(dot)com Web: http://www.myperfectautomobile.com