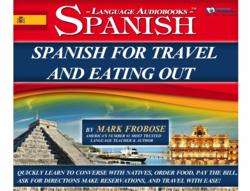 The trend is clearly going to be moving away from computer-based programs and more towards versatile all-audio language programs like those we offer at LanguageAudiobooks.com.
Mark Frobose/President
LanguageAudiobooks.com
Champaign, IL (PRWEB) May 23, 2013
Language Audiobooks President and Founder Mark Frobose stated today that he expects sales of language products in general to surge significantly over the next few years.
According to Frobose, who is the bestselling author of over 70 language programs including Bite-Sized Spanish in Ten Minutes a Day, and Italian for Travel and Eating Out, "The American public is slowly coming out of a mode of self-denial and entering a purchasing phase that will positively affect sales of language-learning products."
Why the sudden interest and the growing willingness to spend bucks on learning a language? "The economy is improving and people are realizing how learning to speak a second language can positively impact their careers, their income, their enjoyment of foreign travel and exotic cuisines," states Mark, who also created a Spanish language travel and restaurant program called "Spanish for Travel and Eating Out".
Which programs are Americans most likely to buy? "The trend is clearly going to be moving away from computer-based programs and more towards versatile all-audio language programs like those we offer at Language Audiobooks," he said.
And why will all-audio language programs likely be more appealing to consumers in the near future? "Audio language programs are more versatile and accessible than computer-based programs," explains Frobose, whose bestselling "Power Spanish I Accelerated" offers fast and easy conversational ability in Spanish from any location. "Audio goes wherever you go and allows the individual to take advantage of life's many waiting periods to learn to speak a new language."
Language Audiobooks founder Mark Frobose has been teaching languages for over 32 years. He is the creator of Macmillan Audio's entire foreign language program line and is now offering no-cost language lessons in Spanish, French, Italian, German, and Mandarin Chinese on his website http://www.languageaudiobooks.com.