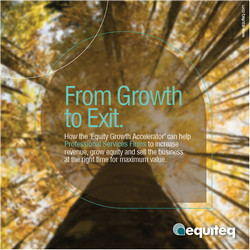 Equiteq provided us with an end to end solution, starting with the building of the plan to grow the business, executing the plan, through to negotiating a great deal with Capita.
London (PRWEB UK) 22 May 2013
Equiteq is a consulting industry merger and acquisition specialist, providing both growth advisory and M&A transaction services to the global consulting sector. Paul Collins, Managing Partner at Equiteq, said:
"This deal is a great example of what can be achieved by planning years ahead of selling a consulting firm. We first engaged with Blue Sky five years ago when it was a quarter the size it is today. We helped the company to build growth in sales and profits, and also equity value. Then 18 months ago we really ratcheted up on preparing the firm for sale within two years, designing it to be attractive to large trade buyers like Capita."
Blue Sky is a UK-based learning and development consultancy specialising in behavioural change. It has 34 employees and 250 associates. Synergy with Capita is in Blue Sky's complementary expertise in training and development services for public and private sector clients. It will also be used to improve performance in Capita's own operational teams, maximising its capability to deliver better experiences to customers. Marc Jantzen, CEO at Blue Sky, said:
"The great thing about working with Equiteq is that they have been there and bought the T-Shirt. There isn't a conundrum they haven't come up against and you get advice on every aspect of the journey. They provided us with an end to end solution, starting with the building of the plan to grow the business, executing the plan, then taking the business to market for a successful sale to Capita. Their support is responsive and their coaching gave us the confidence to make the right decisions at each step of the way. Finally, they helped us negotiate and close a great deal with Capita, not just for the shareholders, but all the team at Blue Sky."
For more information and media enquiries, contact Tony Rice on +44 203 651 0607, tony(dot)rice(at)equiteq(dot)com, or visit http://www.equiteq.com/report to download our Global Consulting M&A Report.
About Equiteq
Equiteq is a consulting sector M&A specialist. We work with consulting firm shareholders, helping them to achieve their business objectives and exit strategies. Our services are designed to deliver great returns for our clients, by accelerating revenue, profit and equity value growth, and ultimately realizing that value in a trade sale or other type of liquidity event. If you are grappling with how to grow a consulting business, or any of these objectives are on your agenda, then please contact us.