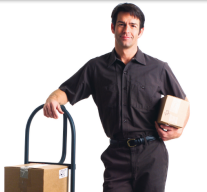 Atlanta, GA (PRWEB) May 21, 2013
1-800 Courier, a recognized leader in same-day delivery, messenger and transportation services nationwide, announces palletized freight cargo van services nationwide. The same-day courier has made the announcement in efforts to expand their current customer base, give service exposure, improve customer loyalty, and increase sales growth. 1-800 Courier strives to be the best choice for superior courier logistic solutions throughout the US.
1-800 Courier palletized freight cargo van services are available for customers that have 1 to 2 pallets to deliver, in which the size and weight meets a cargo van's criteria. A cargo van's dimensions is 8 feet in length, 4 feet in width and 3 feet in height. Most standard-sized pallets are 4 feet by 48 inches, therefore, can fit within a cargo van. The palletized freight can not exceed 3 feet high and its' maximum weight is 9,500 pounds. With the length of a cargo van, if the pallets are standard-sized pallets, within the restricted height and weight, 1-800 Courier customers can fit 2 pallets.
1-800 offers standard 4-hour service and express 2-hour service for the palletized freight cargo van services nationwide. Customers are able to request these services real-time and on-demand. 1-800 Courier will provide cargo van delivery services not only locally, but also long-distance services throughout the US. Customers can requested an on-demand service for pick up quickly in one city and deliver to another, even if that city is out-of-state.
1-800 Courier can also provide scheduled palletized freight cargo van deliveries on a daily and/or weekly basis. The advantage of delivering palletized freight via cargo van is the speed in which a customers freight can be delivered, opposed to a straight truck. Since cargo vans are smaller, customers will obtain cost savings for their shipments as well. For special cargo van delivery requests, customers can contact 1-800 Courier sales staff via phone or its' online customer support form. The nationwide courier is available 24/7 to assist their customers with their various same-day delivery needs.
1-800 Courier is a recognized leading same-day courier of same-day delivery, transportation and distribution services nationwide. From small packages to palletized freight, 1-800 Courier delivers on-time and fast. From its headquarters in Atlanta, Georgia, 1-800 Courier successfully services a growing list of over 1,500 clients, including Fortune 500 Companies throughout the US.