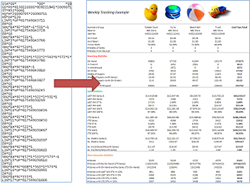 Now our clients can be set up quickly to enjoy the benefits of our software and consulting.
New York, NY and Laval, Quebec (PRWEB) May 29, 2013
Enhanced Retail Solutions (ERS) and InterTrade Systems announce a partnership to offer an end-to-end EDI Point Of Sale (POS) solution to ERS clients, including the set up and delivery of the EDI 852 POS document. ERS' broad customer base of manufacturers and retailers can now collaborate seamlessly by integrating a multitude of data points providing deeper visibility of sales trends and inventory position. Manufacturers have been able to aggregate sales data from its retail partners' data sources such as spreadsheets, portal data and 852 EDI documents. These vendors then analyze that data with a suite of best practice reporting along with dashboards and ad hoc reporting via ERS' business intelligence tool. A separate module enables retail door level replenishment as well as wholesale inventory forecasting. Retailers on the ERS platform can see their store's inventory position alongside their vendor's wholesale position.
ERS always desired more competitive pricing for EDI 852 POS documents and noticed two trends of late: Certain VANs have been less responsive in turning on these documents and some clients' EDI/IT departments have been too busy to initiate the process.
The InterTrade partnership enables ERS to manage and control the set up, offloading that effort from our clients' overburdened EDI/IT teams and allowing the cost to be a fraction of what other VANs charge.
"We are very excited to address this weak link in the set up process," says David Matsil, President of Sales and Marketing. "Now our clients can be set up quickly to enjoy the benefits of our software and consulting."
About Enhanced Retail Solutions LLC:
Enhanced Retail Solutions is a New York based software and consulting firm specializing in retail analysis and Demand Planning for the manufacturer and their retail partners. ERS' state of the art software tools and consulting deliver critical data quickly, easily and cost effectively, adding over one hundred million dollars to their clients' bottom line. ERS' broad customer base includes industry leaders in the Electronics, Consumer Products, Apparel, Footwear, Home Textile, Toy, Home Decor, Home Improvement, Housewares and Food Industries. For more information, visit http://www.EnhancedRetailSolutions.com.
About InterTrade Systems:
Since its foundation in 1996, InterTrade Systems has established itself as a partner of choice for companies, large and small, seeking to address their supply chain challenges and associated EDI needs. They are recognized for their strong expertise in EDI networking solutions as well as their product data synchronization (catalogues) offering. For more information, visit http://www.intertrade.com. InterTrade is a division of Mediagrif Interactive Technologies Inc. (TSX: MDF), a world-leading operator of e-commerce solutions (http://www.mediagrif.com).