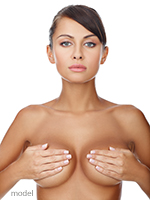 Los Angeles, California (PRWEB) May 22, 2013
According to a May 14, 2013 US News and World Report article entitled "Women Have More Options for Breast Cancer Surgery," modern medical technology has given women with breast cancer an opportunity to approach this disease in a whole new light. Since the new approach known as oncoplastic surgery has been developed, women now face breast cancer and mastectomies with greater hope for a positive aesthetic outcome (Go to goo.gl/ARqoN).
"Before the introduction of plastic surgery to oncology, women had little choice but to wear a prosthetic device that mimicked the form of a breast," says Dr. Ourian, Medical Director of Epione Beverly Hills. "Only after completely healing from a mastectomy could they undergo multiple breast reconstruction surgeries. Women now have the option to undergo an augmentation procedure that is performed immediately following the mastectomy. The newer augmentation procedure gives women more natural looking and feeling breasts, therefore reducing the emotional toll."
According to the article, medical scientists have discovered new ways to approach treatment plans. These new treatments are easier and less stressful on the mind and body. The technology involved in these procedures enables physicians to preserve natural breast skin, tissues, and the nipple. Thanks to these new developments women can now choose to have a mastectomy and immediate reconstruction surgery using skin from their natural breasts. Additionally, many women are opting for treatments that include chemotherapy and hormone therapy prior to the mastectomy operation.
"I think these new techniques have probably saved lives," says Dr. Ourian. "The improved aesthetic result has given more women the confidence to go through with a potentially life-saving mastectomy."
Dr. Ourian has been a pioneer in laser technology and non-invasive aesthetic procedures including Restylane, Juvéderm, Radiesse and Sculptra. These treatments are used for the correction or reversal of a variety of conditions such as acne, acne scars, skin discoloration, wrinkles, stretch marks, varicose veins, cellulite, and others. More information about breast cancer treatment advancements can be found on Epione's website.