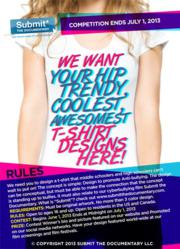 Atlanta, GA (PRWEB) May 22, 2013
Submit the Documentary is holding its first International contest for a T-Shirt Design. Not only will kids want these shirts, but the film will be distributing them to all ages across the world in promotion with our film "Submit the Documentary" which gives solutions to the growing trend of cyberbullying. This contest is ideal for aspiring graphic design students in high school or college.
The challenge: The design must emulate anti-bullying or cyberbullying. It does not need to be literal. The design can be conceptual, but must be able to make the connection that the concept is standing up to bullies. It must also relate to our cyberbullying film Submit the Documentary.
What is "Submit the Documentary": The way we hurt each other has evolved. Digital devices are glued to our hands. It is easy to be invisible online. Anyone can be a cyberbully. Submit features interviews from affected teens, parents of victims, educators, experts and law enforcement as they tackle this worldwide issue, while offering solutions to this complicated problem.
Prize includes contest winner's bio and picture featured on website and promoted on Submit the Documentary's social media networks. The winning design will also be distributed at Submit the Documentary's screenings, conferences, and film festivals.
Requirements: Please visit http://www.submitthedocumentary.com/antibullycontest
Rules: Open to ages 16 and up. Open to residents in the US and Canada.
Contest: Ends at Midnight on July 1, 2013
The top 2 designs will be put onto social media for voting http://www.facebook.com/submitthedoc
Cyberbullying is truly a year-round problem, and Submit the Documentary is taking action to spread awareness and we hope that you help us spread the world. Even if you are not eligible for the contest, host your own private screening of Submit the Documentary to raise awareness on cyberbullying and that this growing trend #NeverQuits.