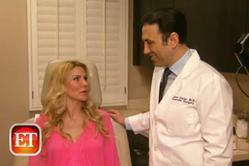 Los Angeles, CA (PRWEB) May 20, 2013
According to a May 6, 2013 CBS News article, titled "FDA Wants Cancer Warnings at Indoor Tanning Salons," tanning salons in the US may soon have to face stricter safety regulations. The Food and Drug Administration wants to see cancer warnings on indoor tanning beds and the implementation of a minimum age floor of eighteen for the use of indoor tanning and sun beds. The proposal is linked to concerns about melanoma, which has become increasingly common over the last few decades (Go to goo.gl/TCT6m).
"At the moment, sun beds are classified as low-risk devices, says Dr. Simon Ourian, Medical Director of Epione Beverly Hills. "The FDA wants to reclassify them as Class 2, moderate risk, devices. This reclassification would force the FDA to review the design safety of tanning equipment before it is allowed back on the market. At the moment, sun beds are not subject to review from the FDA before being used to treat customers, which I believe is inadequate."
As reported in the article, indoor tanning beds can be harmful to the skin, increasing the risk of skin cancer. According to studies, people who have used indoor tanning beds and have been exposed to UV radiation have a 75 % higher risk of developing melanoma than those who do not use tanning beds. Melanoma is the most lethal type of skin cancer, but it is also the second most common type of cancer in young adults in the US.
Further, according to the article, the tanning industry has been facing demands for stricter safety controls for years. Healthcare practitioners, including doctors, have been asking for action against indoor tanning for a long time. Some groups have called for a ban on teenagers using tanning beds and for a ban on the sale of tanning equipment to salons that do not use it for medical purposes.
"The FDA safety standards include timers and limits on the UV radiation that is emitted from sun beds, says Dr. Ourian. "As far as I'm concerned, tanning beds should be banned but if that's not possible they need to be used as safely as possible."
Dr. Ourian has been a pioneer in laser technology and non-invasive aesthetic procedures including Restylane, Juvéderm, Radiesse and Sculptra. These treatments are used for the correction or reversal of a variety of conditions such as acne, acne scars, skin discoloration, wrinkles, stretch marks, varicose veins, cellulite, and others. More information about tanning regulations can be found on Epione's website.