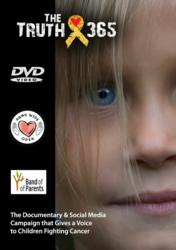 Baltimore, Maryland (PRWEB) May 20, 2013
The Truth 365, a documentary about childhood cancer, received three Emmy® nominations from the National Academy of Television Arts and Sciences. The Emmy® Awards Gala will be held at the Baltimore Marriott Waterfront in Baltimore, MD on Saturday, June 15, 2013.
The documentary received nominations in individual craft categories, including two Outstanding Individual Achievement in a Craft nominations for Director and Editor, Mike Gillette. The Producer, 17-year-old Taylor Klein, is nominated in the Documentary category.
The Truth 365 is a documentary that focuses on the impact of childhood cancer and the lack of funding for research. The documentary gives a voice to children fighting cancer and features interviews with dozens of children, parents, doctors and lawmakers. The film was released in December 2012 with the support of over 100 childhood cancer foundations. The Arms Wide Open Childhood Cancer Foundation (AWOCCF) and the Band of Parents, in collaboration with Gillette and Klein, made the documentary possible.
Gillette says, "Cancer is the leading cause of death by disease for children in the United States, yet there is very little funding for research. The goal of The Truth 365 is to stand up for these kids by giving them a voice."
Dena Sherwood, Founder of AWOCCF and Co-Founder of The Truth 365 says, "It's been amazing to watch my dream for this documentary and campaign become a reality by raising national and international awareness and to watch the small whisper of the childhood cancer community become a roar!"
For more information about The Truth 365, please visit http://www.TheTruth365.org
About Arms Wide Open Childhood Cancer Foundation
On July 6, 2008, the lives of Dena and Billy Sherwood changed forever when their then 13-month-old son, Billy Jr., was diagnosed with neuroblastoma, a very aggressive cancer of the sympathetic nervous system that most commonly occurs in infants and children under the age of five. In August of 2009, in the midst of their son's aggressive treatment, Dena and Billy founded Arms Wide Open Childhood Cancer Foundation. Arms Wide Open Childhood Cancer Foundation is working closely with scientists, researchers and doctors; who are pioneers in the pediatric cancer field, who are on the forefront of bringing many alternative therapies into clinic which could prolong the lives of children diagnosed with Neuroblastoma until a cure is funded. Right now only 30% of children diagnosed with High Risk Neuroblastoma will survive, but because it is an "orphan" cancer, research funding is limited as pharmaceutical companies do not see the efforts as profitable. Recognizing that children should not be viewed as a profit, but, rather, our investment, Arms Wide Open raises money for alternative therapies and actual treatments these children so desperately need in order to survive
###