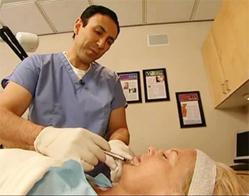 Los Angeles, CA (PRWEB) May 21, 2013
According to a May 13, 2013 New Zealand Herald article titled "Time to Rethink the Use of Botox," Botox injections have become the most popular cosmetic procedure in the world since their approval in 2002 (Go to goo.gl/8iYbD). Although it is mostly associated with women, Botox has become quite popular with men. The injection makes facial wrinkles less visible by paralyzing facial muscles. The effects of a single Botox injection last for about three months. This means that people who are conscious about their looks require at least four Botox treatments every year.
"It is important to note that there is a significant difference in the dosages used for cosmetic procedures and those used for treating serious illnesses," says Dr. Simon Ourian, Medical Director of Epione Beverly Hills. "According to Allergan, the manufacturer of Botox, there has never been a death reported related to its cosmetic use."
According to the article, Botox consists of the Clostridium botulinum bacteria, which is a dangerous neurotoxin that can cause botulism (a fatal paralysis). Administered in small doses for cosmetic purposes, it is considered safe. In large doses there is concern that a Botox injection can spread from the injection site making it hard for one to breathe or swallow food. One might also experience blurred vision, numbness, inability to speak, or droopy eyelids.
"Not surprisingly," says Dr. Ourian, "the article cites a recommendation to see only a physician qualified to administer Botox injections. Trusting a person who does not have a medical background or using Botox kits sold online is a recipe for disaster."
Dr. Ourian has been a pioneer in laser technology and non-invasive aesthetic procedures including Restylane, Juvéderm, Radiesse and Sculptra. These treatments are used for the correction or reversal of a variety of conditions such as acne, acne scars, skin discoloration, wrinkles, stretch marks, varicose veins, cellulite, and others. More information about Botox safety can be found on Epione's website.