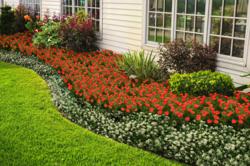 Mulch never looked this good!!
Lebanon, Ct (PRWEB) May 22, 2013
What is it that deters weeds, repels harmful insects, attracts beneficial ones, improves soil, retains water and looks beautiful? It's living mulch. Far superior than typical garden mulches like bark or gravel, living mulch (often called cover crops) is a brilliant carpet of fast-growing flowers. Most experienced gardeners are familiar with the effort typically involved in planting cover crop seeds which are small and tend to clump together making it difficult to get an even spread which results in raggedy patches. But an innovative new product has just debuted called Live Mulch© ("Groovy Groundcovers by Seed") which makes the planting process fast, easy and evenly-distributed by cleverly combining seeds with prepared mulch medium. Live Mulch (http://www.livemulch.com) is an especially affordable groundcover, with a 2-pound bag - enough to cover 200 square feet - priced at only $14.99, much less expensive than other options like bark. And Live Mulch offers free shipping through its website on orders over $99. Customers can also purchase the optional Seed N Bag ($9.99), which makes spreading Live Mulch even simpler.
One of the typical complaints of commonly-used bark mulch is how dingy, gray and moldy it can become in time, not to mention the back-breaking task of hauling and spreading it. And the other downsides are that it can stain buildings and it needs to be replaced yearly, making it an ongoing task and annual expense. Live Mulch solves all these problems by instead growing a low-cost, beautiful, living mulch that in addition to looking great and improving the soil also attracts beneficial insects like pollinators (bees, butterflies) and predator insects (pirate bugs, green lacewings) that help control destructive pests such as aphids naturally, allowing the gardener to eliminate the use of toxic pesticides around their home.
Live Mulch was created by Frank Catalano, a Northeast-based gardening entrepreneur who founded his first lawn care business at age 14 in Connecticut. Working extensively with homeowners, Frank sought solutions for problems that his competitors often dismissed as too difficult or not profitable enough to address. In 2010, drawing on his decades of gardening experience - along with four years of development and twenty prototypes - Frank created the Grass Stitcher (http://www.grassstitcher.com), the world's first and only hand-seeding tool which has since sold over 14,000 units. It's his inherent problem-solving nature, astute observations and a desire to help the home gardener that lead to his invention of Live Mulch.
"There's never been an easier or cooler way to mulch," said Frank Catalano, inventor of Live Mulch and the Grass Stitcher. "When we displayed Live Mulch for the first time at a trade show this winter I knew we had something. People were scooping up bags and bags of Live Mulch, we sold out of product every day. The project has been a blast so far and I can't wait for home gardeners to discover how easy it is to create some beautiful, almost psychedelic waves of beneficial flowers."
Live Mulch is available in a full palette of colors. Seven different varieties of low-maintenance flowers are available for gardeners to choose, letting them "paint" the entire yard with living art:
"Itsy Bitsy Wicked White" – White Sweet Alyssum (Lobularia Maritime)
"Peaceout Purple" – Purple Sweet Alyssum (Lobularia Maritime)
"Boogie Oogie Outa Site Orange" – California Poppy (Eschscholzia Californica)
"Carpet Ride" – Chamomile (Chamaemelum Nobile)
"Jivin' Jump Ups" – Horned Violet (Viola Cornuta)
"Lucky Charms" – White Clover (Trifolium Repens)
"Sweet and Low" – Creeping Thyme (Thymus Serpyllum)
The Live Mulch website (http://www.livemulch.com) has details on the seven different varieties along with growing tips, beneficial insects attracted, effects on the soil, and interesting uses for the plants like edibility, medicinal properties and so forth.