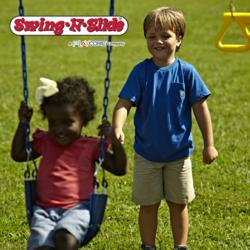 We want to ensure customers have everything they need to create the ideal play environment
Chattanooga, TN (PRWEB) May 22, 2013
Swing-N-Slide, America's first do-it-yourself wooden playset manufacturer, has announced extended customer service for the summer. Now through Labor Day, Swing-N-Slide's Customer Support Center is also open on weekends, aiming to take the guess work out of building a backyard playground.
Monday through Friday, customers can contact Swing-N-Slide from 7am to 5pm CST, and on Saturday and Sunday and all Holidays from 10am to 5pm CST. Customer service representatives are not only available by telephone or email; Swing-N-Slide offers a Live Chat option on the website that allows customers to ask questions on anything from swing set assembly, to recommendations on the ideal playground accessories for their child's needs.
"Heading into summer, a lot of parents are looking to install a playset for the first time, or they want to ensure they employ proper swingset maintenance so they can make sure their playground is well-equipped and their children will be safe," says Peggy Schutt, Customer Service Manager at Swing-N-Slide. "We want to ensure customers have everything they need to create the ideal play environment. Our goal is to differentiate from our competitors by offering unprecedented quality customer service, and instill in our customers great confidence in our products and in the advice we give."
Swing-N-Slide's FAQ page extensively outlines common questions regarding how to prepare to build a Swing-N-Slide Do-it-Yourself Playset, the tools needed, and troubleshooting techniques for general concerns. "We want our customers to know that while those answers are available online, they should not hesitate to approach us for additional or out-of-box questions," Schutt continued.
Visit Swing-N-Slide.com to Live Chat, or call 1-800-888-1232 to speak to a Swing-N-Slide Customer Representative today!
About Swing-N-Slide
Since 1985, Swing-N-Slide has provided safe, high-quality wooden play sets, and is one of the leading playground equipment companies in the United States. With a commitment to safety and quality, Swing-N-Slide designs, manufactures and distributes consistently innovative do-it-yourself playground kits and play set accessories to enhance the at-home assembly process and overall safety of their play systems, achieving their vision of bringing fun, compliant and reliable products into the home.
About PlayCore
PlayCore helps build stronger communities around the world by advancing play through research, education, and partnerships. Our company infuses this learning into its complete family of brands. We combine best-in-class planning and education programs with the most comprehensive array of recreation products available to create play solutions that match the unique needs of each community we serve.