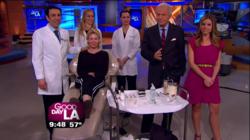 Los Angeles, California (PRWEB) May 23, 2013
According to a April 18, 2013 Stony Brook University report titled "SBU-Led Study Reveals Nanoparticles Found in Everyday Items Can Inhibit Fat Storage," found that pure gold nanoparticles found in everyday items such as cosmetics and other products curb the storage of fat tissues in the human body. As a result, men and women who use such products experience accelerated aging, which means that they develop wrinkles earlier than they otherwise would have (Go to goo.gl/tY56T).
"I really commend the work these researchers are doing," says Dr. Simon Ourian, Medical Director of Epione Beverly Hills. "It's just another example that there are literally layers of cellular properties and functioning that we don't fully understand."
The study published in the journal Nanotoxicology (go to: goo.gl/FL55H) found that human adipose cells could be penetrated by gold nanoparticles upon contact. The researchers also discovered that there is no way to eliminate these gold nanoparticles once inside adipose cells. Fundamentally these small particles are inert and harmless, that is why it was assumed that they are safe.
Researchers, however, found a very disturbing effect of gold nanoparticles. According to the report, the particles disrupted multiple cell functions including cell division, movement, and collagen contraction. However, despite the grim nature of these potential effects, the group has also learned that all functions return to normal once such nanoparticles are removed.
"As the developer of my own Signature Series skin care line, this is the kind of development I need to be aware of," says Dr. Ourian. "As the report states, gold nanoparticles are found in many everyday items including personal care products."
Dr. Ourian has been a pioneer in laser technology and non-invasive aesthetic procedures including Restylane, Juvéderm, Radiesse and Sculptra. These treatments are used for the correction or reversal of a variety of conditions such as acne, acne scars, skin discoloration, wrinkles, stretch marks, varicose veins, cellulite, and others. More information about gold nanoparticles in cosmetics can be found on Epione's website.