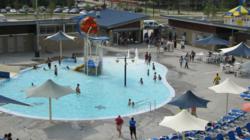 The Bay Water Park was awarded a 2013 EDC Cornerstone Award.
Kansas City, Missouri (PRWEB) May 22, 2013
The project was awarded a 2013 EDC Cornerstone Award in recognition of its contribution to the growth of the city's economy and positive impact on the surrounding community including employment increases, capital investment and improvements.
Confluence, in collaboration with the City of Kansas City Missouri Parks and Recreation Department, led the design of this $7.5 million water park which opened to the public on May 26, 2012.
***
Founded in 1998, Confluence is a professional consulting firm comprised of landscape architects and planners with offices in Kansas City, Missouri; Des Moines, Iowa; Sioux Falls, South Dakota and Iowa City, Iowa. The firm's work includes a wide range of public, educational, institutional, and private sector projects. Confluence has 18 licensed landscape architects and carries licenses in Missouri, Kansas, Iowa, Illinois, Minnesota, North Dakota, Nebraska, South Dakota, Wisconsin and Wyoming.