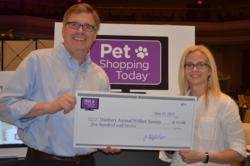 Pet lovers get a great deal on the best odor elimination product on the market and help animal rescue at the same time.
Tysons Corner, VA (PRWEB) May 20, 2013
One of the founders of Zero Odor, makers of the line of breakthrough molecular odor eliminator products, introduced the special initiative named Pet Shopping Today at BlogPaws 2013, the annual conference for pet blogging and social media.
Pet Shopping Today (PetShoppingToday.com) was conceived as a dedicated website to help support animal rescue organizations by devoting 10 percent of all product sales to a specific animal rescue group at any given time. The Pet Shopping Today site will also feature in-depth educational interviews with rescue groups it engages with – a series called Rescue Insider. Jim Huffstetler, one of the founders of Zero Odor and creator of the Pet Shopping Today concept, presented the first donation check generated from a beta period to Cathy Lent of Danbury Animal Welfare Society (DAWS) during a special gathering in the BlogPaws Exhibitors Hall on Friday afternoon.
"The idea for Pet Shopping Today was born out of Zero Odor's sponsorship of BlogPaws last year," said Jim Huffstetler. "In seeing firsthand that pet bloggers have now become the voice of the pet lover community, it struck us that working with pet bloggers is a great way to get the word out about this initiative to support animal rescue groups. It's truly a shared goal."
The BlogPaws 2013 Conference was the perfect place to announce the Pet Shopping Today initiative because of the attention that BlogPaws brings to the vital cause of animal rescue. "It is fulfilling to see the impact that BlogPaws has on the pet lover community," said Chloe DiVita, one of the founders of BlogPaws. "To see that this charitable initiative was conceived as a result of our conference is wonderful! Zero Odor is a very innovative company, and I love how Jim and the team are embracing and working with our blogger community to create awareness and financial support through Pet Shopping Today." With 5 to 7 million lost or abandoned dogs and cats entering animal shelters every year in the U.S. (according to the ASPCA), financial support of animal shelters is crucial.
The Zero Odor company has always been sensitive to the cause of animal rescue and donates product to rescue groups whenever it is able to. It has also sponsored several events of its home state rescue group—Danbury Animal Welfare Society (DAWS). So when Huffstetler and team members were developing the idea for a trial period of Pet Shopping Today, DAWS was the first group to come to mind. "Zero Odor has generously donated product for our shelter and supported our annual Walk for Animals and the Making a Difference Ball," said Cathy Lent, animal rescue expert with DAWS. "So when Jim mentioned that DAWS could be the first animal rescue group that Pet Shopping Today would focus on, I was thrilled. I wish more businesses would create initiatives like this—it is so important and so appreciated!" One of the philosophies of Pet Shopping today is to work with only one or two rescue groups at a time, so the donation contributions can be meaningful to each group.
The Pet Shopping Today web site will primarily feature Zero Odor products and special offers. The PetShoppingToday.com site is currently featuring a four bottle Zero Odor special kit unavailable anywhere else, consisting of four bottles of Zero Odor (one 22-ounce, one 8-ounce, and two 4-ounce) for the special price of $19.95 (plus shipping and handling). "Not only are pet lovers getting a wonderful deal on the best odor elimination product on the market, they are also helping animal rescue groups through the 10% of sales donation," says Huffstetler.
About Zero Odor:
Zero Odor LLC, with headquarters in Litchfield, Connecticut, markets and distributes a line of breakthrough odor elimination products using the Zero Odor brand name. Zero Odor's patented non-toxic formula works on the molecular level to permanently eliminate any odor it touches. When sprayed in the air or on a surface, Zero Odor bonds with odor molecules and turns then into non-odor molecules, leaving only clean crisp air behind. Zero Odor is non-toxic and biodegradable. It is available in a general formulation plus three pet-oriented formulas –Zero Odor Pet, Zero Odor Litter Spray and Zero Odor Pet Stain Remover. You can learn more about Zero Odor by visiting the company's websites (ZeroOdor.com, ZeroOdorPet.com) or by visiting Zero Odor on Facebook.
About BlogPaws:
BlogPaws is social media company focused on teaching pet enthusiasts how to use social media effectively. BlogPaws works year-round to connect our bloggers and micro-bloggers to the brands they buy every day. Our online community site is for pet bloggers, pet enthusiasts, pet people on Twitter and Facebook, and brands eager to tap into a growing, vibrant, vocal community of serious writers, bloggers, tweeters. We are the go-to resource for pet people and brands to partner on projects and campaigns, to be educated on social media, and to arrange face-to-face meetings all over the country.