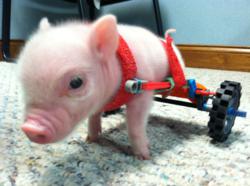 New York, NY (PRWEB) May 21, 2013
Chris P. Bacon, the pig in a wheelchair who quickly became a YouTube sensation in early 2013 with over 1.2 million views, is setting out to teach children about compassion, acceptance, and loving your imperfections. Chris P. Bacon was rescued by his veterinarian Dr. Len Lucero after a young woman reluctantly dropped him off to be euthanized because of a congenital defect that affects his rear legs. Dr. Lucero gave Chris a second chance at life and with two wheels strapped to the rear of his body, he is now a perfectly healthy and happy piggie on-the-go.
Hay House, the world's largest self-help and motivational publisher has signed a three-book deal with Chris P. Bacon, his dad Dr. Lucero and co-author Kristina Tracy, who has worked on children's books with Wayne W. Dyer, Dr. Christiane Northrup, Deepak Chopra and more. The first book, geared towards children ages 4-10, will launch in Fall 2013.
Chris P. Bacon shares adorably witty updates from his daily life in Florida on his Facebook and Twitter pages. He's also no stranger to media! Chris P. Bacon has made appearances on TV shows like Anderson Cooper and TODAY show! The world has fallen in love with this charming pig who is teaching us all a lesson—when life throws you an obstacle, strap on your wheels and face it head-on.
To learn more about Chris P. Bacon, please visit the following sites:
Website: http://www.chrispbacon.org
YouTube: http://www.youtube.com/watch?v=4Z-uO5TPQfM&feature=youtu.be
Facebook: https://www.facebook.com/CPBaconWheels
Twitter: https://twitter.com/ChrisPBaconPig
Hay House is the international leader in self-help and motivational publishing, featuring books, audios, and sidelines by more than 250 authors. Smiley Books, Visions, and Insights are imprints of Hay House, Inc, which is also the exclusive distributor for Amber Allen Press and Agape Media, Inc. Hay House has a self–publishing division, Balboa Press, as well as radio, film and television divisions. Corporate offices are in California and New York with international divisions in Australia, the United Kingdom, India, and South Africa. Please visit us as http://www.hayhouse.com.
# # #