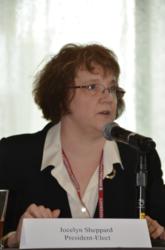 "Increasingly, independent contractors, consultants, and freelancers are becoming lifelines for organizations needing critical information," says AIIP President, Jocelyn Sheppard.
Baton Rouge, LA (PRWEB) May 20, 2013
At a time when libraries and research centers are being stretched thin, downsized, or eliminated, many librarians and information specialists are seizing the opportunity to set up and run their own information-centric businesses. These "infopreneurs" are masters of the art of managing clients, conducting research and analysis, and leveraging the latest in productivity and information management tools.
Increasingly, independent contractors, consultants, and freelancers are becoming lifelines for organizations needing critical information—as well as the tools and resources to make sense of it. At the Special Libraries Association (SLA) 2013 Annual Conference, to be held June 9-11 at the San Diego Convention Center, AIIP members will tell the stories of how they've built successful independent careers.
The Association of Independent Information Professionals (http://www.AIIP.org) is the leading organization for solo info practitioners whose skills include research, writing, editing, training, website/SEO consulting, business consulting, knowledge management, and other information-centric activities.
"Independent information professionals possess unique combinations of information skills, subject area knowledge, and technical skills and expertise," says AIIP Membership Director Arthur Weiss. "AIIP prides itself on its diverse community, and we're very pleased that several of our members will be sharing their experience and knowledge with the broader information community at the 2013 SLA Annual Conference."
About the AIIP presenters
Anne Hengehold has leveraged her experience as a corporate information specialist to build a business that serves the architecture, engineering, and construction industries. Clarify Information Services provides research, market overviews, expert witness profiles, topic monitoring, and more. As a panelist at the June 11 program, "The Resilient Solo," Hengehold will discuss how solo librarians can remain relevant and adaptable throughout their careers.
Current SLA president (and AIIP volunteer) Deb Hunt operates Information Edge, which provides information management, library design and automation, and research and competitive intelligence to clients in the corporate, higher education, government, museum, and health sciences sectors. Hunt will be signing copies of her new book, The Librarian's Skillbook: 51 Essential Career Skills for Information Professionals, on June 11. In addition to opening the SLA General Session and presiding at the business meetings, Hunt will co-present (with Guy St. Clair) the June 10 interactive seminar titled, "Transforming Libraries."
Cindy Shamel is a past president of AIIP and of the San Diego Chapter of SLA and is the author of dozens of articles on research and marketing. Her firm, Shamel Information Services, specializes in information audits and analyses that help identify a company's internal information gaps. As a featured speaker on the June 9 panel, "Hot Topics in Bio Business," Shamel will discuss current trends in the pharmaceutical and health industries and their implications for information professionals.
SLA Board member and former AIIP Board member Ulla de Stricker is principal at de Stricker Associates, a consulting firm that helps companies maximize their investment in information and knowledge management resources and tools. De Stricker will serve as an expert, along with Deb Hunt and others, in the June 9 Spotlight Session, "The Experts Are In! One-off Career Advice," and will also be providing advice in the June 11 session titled "Leading from the Library: How Can I Be a Leader When _________?"
About AIIP
The Association of Information Professionals (AIIP, http://www.AIIP.org) is the premier industry association for independent information professionals. The membership consists of more than 500 business owners from around the world whose firms provide research and consulting services across a wide variety of industries. Business research, competitive intelligence, market analysis, database development, training, and information management consulting are just a few of the areas in which AIIP members specialize. Some of the vertical industries AIIP members serve include scientific, medical, pharmaceutical, regulatory, information technology, education, financial services, manufacturing, nonprofits, and life sciences. A directory of members is available at: http://www.aiip.org/content/hire-info-pro.
Media Relations/Public Relations Contact: Jeff Mustard – cell: 954-801-8263; email:
Jeff(at)TheBambooAgency(dot)com; http://www.TheBambooAgency.com
For more information about the Association of Independent Professionals, contact AIIP
Headquarters, Baton Rouge, LA; (225)408-4400, email: office(at)aiip(dot)org.