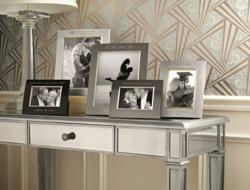 "We've helped thousands of customers pick up engraved gifts using the buy online, pick up in store option. And, when the customer gives the gift, it looks like they've planned it for weeks." - Amy Myers, VP of Creative Services
Cleveland, OH (PRWEB) May 21, 2013
While the convenience of online shopping allows consumers to shop in their pajamas and multi-task, it's not an option when someone needs to buy a last-minute gift and can't wait for it to be shipped. Things Remembered, the leading national retailer of personalized gifts, is giving customers the best of both worlds: The convenience of shopping and personalizing online and the speed of picking up their purchase at their local store, on the same day they place their order.
Last-minute shopping can now be done from the comfort of home and a personalized, one-of-a-kind gift will be waiting for them at their local store. Customers can log into http://www.thingsremembered.com, select a one-of-a-kind gift, choose the store where they would like to pick up their order, and personalize the gift online. Customers can place an order online and pick it up at their local store on the same day.
"Sometimes we're so busy with our day-to-day lives, we don't remember special occasions like birthdays or anniversaries until the last minute," said Amy Myers, Vice President of Creative Services at Things Remembered. "But that doesn't mean it's too late to get a really special gift they'll remember forever. We've helped thousands of customers pick up engraved gifts using the buy online, pick up in store option. And, when the customer gives the gift, it looks like they've planned it for weeks."
With more than 600 stores in 48 states, this latest offering from Things Remembered tailors the shopping experience to the individual needs of customers. Whether they're looking for a special gift for an event that same day, but busy at home with the kids or they just don't feel like going to the mall, Things Remembered will have something special waiting on the same day they place the order.
About Things Remembered
Things Remembered, based in Highland Heights, Ohio, is the nation's leading chain of personalized gift stores, with more than 600 stores in 48 states. For more information about Things Remembered or for store locations, call 800-274-7367 or log on to http://www.thingsremembered.com. For more news, follow Things Remembered on Twitter and Facebook.