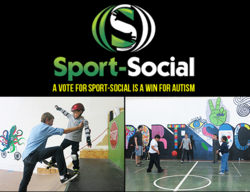 Your vote will help hundreds of kids...
Las Vegas, NV (PRWEB) May 23, 2013
Sport-Social, a Las Vegas based Autism Center, entered a contest that will result in help for hundreds of kids. 1 in 50 children are affected with Autism, according to a 2013 Center for Disease Control report. Sport-Social, a Nevada start-up teaching children with special needs, is a finalist in an innovation competition (http://www.ves.to) for a $100,000 first prize. Sport-Social teaches social skills to children with Autism and other special needs through instruction in sports and the arts. Currently, over 200 children per week are able to take part in this cutting edge program.
VOTE FOR AUTISM IN MAY
Your vote beginning on May 22, 2013 at http://www.VoteAutism.com will help expand the number of children that can participate in this program. Proceeds from the competition will allow Sport-Social to offer scholarships to those in need, expand programming, increase staff, and open the program to accept private insurance and Medicare. Please visit http://www.VoteAutism.com during the month of May and show your support for Autism and learn more about what Sport-Social is all about.
About Autism- (Source- Wikipedia)
Autism is a disorder of neural development characterized by impaired social interaction and communication, and by restricted and repetitive behavior. The diagnostic criteria require that symptoms become apparent before a child is three years old. Autism affects information processing in the brain by altering how nerve cells and their synapses connect and organize; how this occurs is not well understood. It is one of three recognized disorders in the autism spectrum (ASDs), the other two being Asperger syndrome, which lacks delays in cognitive development and language, and pervasive developmental disorder, not otherwise specified (commonly abbreviated as PDD-NOS), which is diagnosed when the full set of criteria for autism or Asperger syndrome are not met.