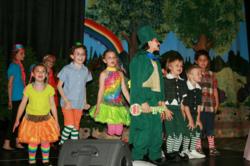 The students were amazing. Their hard work paid off. It was our most delightful Drama Club production ever, Ms. Molly Maher, Everest Academy Dean of Students
Lemont, IL (PRWEB) May 23, 2013
The Everest Academy Drama Club presented the musical Wizard of OZ to a full house on May 17th. The engaged audience was transported to a colorful, magical world of OZ full of delightful munchkins, talking apple trees, flying monkeys and the familiar cast of characters.
Dorothy's red shoes were filled beautifully and gracefully by sixth grader Miss Kate Beecher of Lemont whose voice was sweet, strong and melodic. Dianna Foran of Homer Glen portrayed Glinda the good witch and conveyed her character's kind and helping nature. Sophia Colarelli, a sixth grader from Lockport was truly convincing as the Wicked Witch of the West with her passionate voice, laugh, and the touch of humor she gave to the pointed black hat.
The trio of the Scarecrow, the Tin Man and the Lion were portrayed by three fine inspiring actors from Lemont. David DeRoche, a seventh grader, was endearing as the Scarecow. The Tin Man was brought to life by sixth grader Jacob Stone, and seventh grader Jack Zabilka roared his way into the hearts of the audience as the Lion seeking courage. The Wizard of Oz was played by stately James Beecher an eighth grader also of Lemont. The remainder of the student cast in the supporting roles were all spot-on in their timing and enjoyment of their acting roles.
The vast Everest gymnasium was turned into a full stage theatre supported by creative design and expert lighting and sound. Under the direction of Dee Hamilton, a renowned theater talent both behind the stage and on the stage, the production came to fruition. Ms. Hamilton was supported by assistant directors Caroline Beecher and Frankie Zabilka both graduates of Everest Academy and former pillars of talent in it's Drama Club. Michael Spell, another Everest Drama Club alumnus, recently performed as Cecco in the Lemont High School production of Peter Pan.
While there is no place like home, there was no place like Everest during this entertaining and lively performance of the classic favorite enjoyed by all ages of The Wizard of OZ.
Everest Academy is an independent Roman Catholic school in Lemont educating children from preschool through eighth grade. The teachers and staff are dedicated to forming the whole child by providing the highest level of academics, by building strong character, and by preparing generous leaders ready to serve the community. If you would like to learn more about Everest Academy's unique approach to education, please contact Coleen Mast at 630-243-1995 or visit http://www.everestadvantage.org.