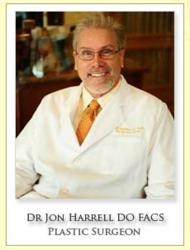 Less invasive procedures have been increasing in popularity for some time.
Weston, FL (PRWEB) May 22, 2013
The American Society of Plastic Surgeons (ASPS) recently released its 2012 Plastic Surgery Procedural Statistics Report, revealing that upper arm lifts in women have jumped an incredible 4,378% the last decade, while office-based cosmetic procedures – such as dermal fillers and BOTOX® Cosmetic – are also on the rise, up a full 10% since 2011.
The increase in office-based, minimally-invasive cosmetic procedures may explain the similar jump in business from repeat patients (up 7%), since BOTOX® and dermal filler results can only be maintained with repeat injections over time.
"Less invasive procedures have been increasing in popularity for some time," says Miami plastic surgeon Dr. Jon Harrell, "But one exception to this trend is the almost 5,000% increase in upper arm lift procedures since the year 2000. What explains this trend? First, there are a great many patients who are losing weight, and the final result is arms with too much skin – skin that will not contract no matter how toned the arm muscles are."
Dr. Harrell also points out that changing fashion standards, such as sleeveless tops and clothing with tighter-fitting sleeves, have likely also contributed to the massive jump in arm lifts, along with a desire to mimic the firm, toned arms of various celebrities. "It's an interesting trend and will be watched closely in the coming years," says Dr. Harrell. "Many plastic surgeons have noted the trend in prior years, especially those of us who specialize in treating previously obese patients."
Another surprising statistic in the report is the fact that cosmetic procedures performed on men increased just as much as women (both up 5%). With total cosmetic surgery expenditures up 5.5% since 2011, it's clear that even a struggling economy is not stopping patients – both men and women – from seeking out the enhanced body image they want.
About Jon F. Harrell, DO, FACS
With over 25 years of experience and double board certification (by the American Board of Plastic Surgery and the American Board of Otolaryngology), Dr. Jon Harrell is one of the most highly trained plastic surgeons in the Miami and Fort Lauderdale area. His clientele often comes from out of state or over international borders, including patients from Europe, Asia, and South America.
Dr. Harrell has trained and worked with many global leaders in plastic surgery, maintaining a lifelong commitment to continuing education and surgical excellence. The Weston Center for Aesthetic Medicine & Surgery is dedicated to providing a first-class, individualized cosmetic surgery experience for every patient.
Learn more about Dr. Harrell and his practice at http://www.westonsurgery.com.