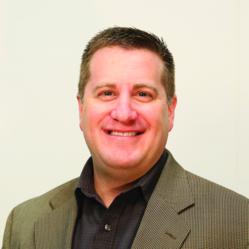 It's not often that you have the opportunity to work with a company that can change an industry.
Omaha, Neb. (PRWEB) May 21, 2013
Recently, AccuQuilt brought on board three new team members to fill positions vital to its contemporary business model. Jay Gordman, Madeleine Roberg, and Jaycie Madison have all joined the AccuQuilt roster within the last few months and are well on their way to helping the company with its innovative mission.
"The whole team is very excited to have these talented individuals on board," said Steve Nabity, AccuQuilt Chief Energizing Officer. "Part of our philosophy in hiring is that we look for people who inspire greatness, in both our customers and fellow employees. Jay, Madeleine, and Jaycie all have qualities that make the people around them excited about what they are doing."
Jay Gordman accepted the newly created position of Chief Momentum Officer in February of 2013. He works with the AccuQuilt team to develop marketing and merchandising strategies that expand AccuQuilt's market reach. His experience includes over 20 years in Business to Consumer Marketing and Merchandising. During the last 10 years he has been involved in the online channel as Director of Ecommerce at Hayneedle and V.P. of Ecommerce and User Experience at Bloom.com.
"I am very excited to work with a great team of people who have a passion for making the lives of our customers better," Gordman said. "It's not often that you have the opportunity to work with a company that can change an industry."
Madeleine Roberg joined the AccuQuilt team in September of 2012 as a custom die specialist. In her new position as Product Merchandising Coordinator, Roberg will be focusing on current product lines as well as the development and implementation of other AccuQuilt products. Roberg has vast experience as a Cultural Resource Archaeologist and studied quilting history via the University of Nebraska in Lincoln. She also worked for Susan Brown and travelled to quilt shows for TQM Products before finding her home at AccuQuilt. Roberg also has had several quilt patterns published in various magazines including Stitch Magazine and Easy Quilts by Fons and Porter.
"I will be spending a lot of time in the Dream Studio developing and testing new products," Roberg said. "I am also looking forward to working with designers to develop new high quality patterns and embroidery designs that coordinate with AccuQuilt products."
Jaycie Madison joined the AccuQuilt team in February of 2013 as Digital Marketing Coordinator. She brings seven years of marketing, merchandising, product development, and social media experience to the table and is a proud graduate of the University of Nebraska-Lincoln with a BS in Merchandising and Marketing. She now oversees email and social media marketing strategies for AccuQuilt. Her duties also include the supervision and execution of all email and social media, along with the task of ensuring all content and design efforts align with the AccuQuilt brand.
"I love working at AccuQuilt," Madison said. "I work with a fantastic group of people in a creative and team-centered environment. I enjoy learning about the quilting industry and look forward to expanding my quilting knowledge."
About AccuQuilt – Better Cuts Make Better Quilts®
Headquartered in Omaha, Neb., AccuQuilt offers quilters, fabric crafters and retailers a premiere line of fabric cutters, dies, quilting patterns and other quilt and fabric cutting solutions that help quilters quickly and accurately cut shapes for quilting and fabric crafts. AccuQuilt also offers quilters a wide variety of rich educational resources to enhance their quilting experiences. Cutting with AccuQuilt cutters is a natural evolution of fabric cutting methods. "First scissors…then rotary…finally…AccuQuilt®" for fast, easy, accurate fabric cutting. Visit http://www.accuquilt.com for more information.