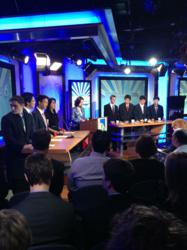 New York, NY (PRWEB) May 20, 2013
The Council for Economic Education is thrilled to announce the winners of the 13th Annual National Economics Challenge, a rigorous academic competition putting students' economic skills and knowledge to the ultimate test. Nailing questions that few adults could answer correctly, Iolani School took home the top prize for the Adam Smith Division (for advanced placement, international baccalaureate and honors students), and Little Falls Community High School was named the winner of the David Ricardo Division (for students who have taken only a single-semester economics course). These teams outpaced over 10,000 other students—double the number of entries from 2011—to win an all-expense paid trip to New York City for a two-day competition to determine the overall champions. This year's Challenge is generously supported by State Farm.®
In the National Economics Challenge, CEE applies the excitement of an athletic competition to academic excellence, providing students with the opportunity to apply their economics knowledge and work in teams. Competitions are held at the State, National Semi-Final, and National Final levels in the two divisions. In each competition, teams of students answer rigorous questions on microeconomics, macroeconomics, international economics, and current events. At the National Finals, students complete rounds of testing, work in teams during a critical thinking round to solve a case problem, and participate in a quick-paced oral quiz-bowl in order to compete for the title of National Champions.
The four finalist teams face each other in the final round of the National Economics Challenge in a "quiz-bowl" format held in New York City. Each team must have previously won in its state and been one of the top four highest scoring teams at the National Semi-Finals competition in order to advance to the championship series.
"We're so impressed with these students' grasp of today's increasingly complex economy, and their mastery of economic decision making," Nan J. Morrison, CEO and President of CEE. "Congratulations Iolani and Little Falls on your achievements, and for setting the bar high for next year's competition!"
The eight Finalist teams placed as follows:
Adam Smith Division
1st Place: Iolani School | Honolulu, Hawaii
2nd Place: Choate Rosemary Hall | Wallingford, Connecticut
3rd Place: Mounds View High School | Arden Hills, Minnesota
4th Place: Richard Montgomery High School | Rockville, Maryland
David Ricardo Division
1st Place: Little Falls Community High School | Little Falls, Minnesota
2nd Place: Carmel High School | Carmel, Indiana
3rd Place: Olympia High School | Olympia, Washington
4th Place: Lexington High School | Lexington, Massachusetts
About the Council for Economic Education
The Council for Economic Education is the leading organization in the United States that focuses on the economic and financial education of students from kindergarten through high school. CEE trains educators to teach young people the fourth "R"—a real-world understanding of economics and personal finance—so that they will be able to make informed and responsible choices throughout their lives as consumers, savers, investors, citizens and participants in the global economy. Each year CEE's programs reach more than 55,000 teachers and approximately 5 million students.
For more information visit http://www.councilforeconed.org/econchallenge.