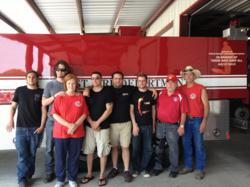 "I was overwhelmed by the perseverance and heart of the community," said lead singer Dave Bray a navy veteran and former 8404 corpsman.
(PRWEB) May 20, 2013
As a culmination of their two week tour of Texas, patriotic rock band Madison Rising performed a special show at the Hog Creek Icehouse in Waco. Funds went to benefit the families affected by the devastating fertilizer plant explosion in West, TX.
"It was an incredible experience to see the magnitude of the devastation firsthand," said lead singer Dave Bray a navy veteran and former 8404 corpsman. "As we drove through the neighborhood, seeing writing on the walls of their homes, 'Our heroes don't wear capes' and 'Pray for West,' I was overwhelmed by the perseverance and heart of the community. We were honored to dedicate one of our shows to them and give something back."
Sam Fishman, drummer of Madison Rising added, "It's about the donations; that so many people have come together to aide in this tragedy of their own free will. It is a tribute to the strength and power of the American spirit."
The West Firehouse lost several members of their company in the tragedy, and on Sunday morning, Madison Rising paid a visit to the station to show their support and personally deliver the funds raised. The band presented nearly $1,000 of donations collected during the previous night's show, along with a portion of their own proceeds.
In the previous days, the band had performed in other Dallas-area towns including Bryan, Killen and Plano, along with a quick visit to Fort Hood along the way. "Being in Texas has been an incredible experience for us," said manager, Richard Mgrdechian. "Not only does the State represent everything we as a band stand for, but the culture out here is unbelievable. People we didn't even know put us up in their homes for days at a time, fed us and helped us out in every way imaginable. We made tons of new friends, and can't wait to come back again in August for the North Texas State Fair in Denton."
Despite a successful tour, and hundreds of thousands of adoring fans all over the country, Madison Rising has had some problems of its own as of late. In particular, the same day the band left for Texas, they received hundreds of complaints from angry fans complaining that their personal postings of the band's best-selling rendition of the Star Spangled Banner had been deleted from Facebook, and despite multiple attempts, they were unable to repost the video.
Facebook typically deletes postings flagged as offensive or spam by large numbers of users, though it would be ironic that users would find their own country's national anthem to be offensive. Although the band is hopeful that the situation with Facebook was merely a technical glitch, they are extremely disappointed that despite multiple inquiries into Facebook, they have not yet to receive any response or explanation whatsoever.
Madison Rising promotes the principles of liberty, independence, smaller government and personal responsibility. Their mission is not only to make great music, but to also send a message that American culture is alive and well. Madison Rising is currently recording its second album and actively touring around the country. For more information on those who lost their lives in the tragedy, please see http://tinyurl.com/azxmg5o.