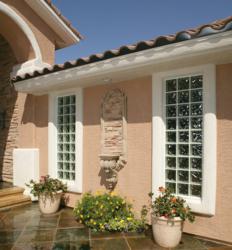 "Anyone who's ever experienced a hurricane knows that while hurricane-force winds are powerful, the real danger comes in the form of flying debris," says Mary Lynn Bruce, Marketing Manager for Pittsburgh Corning
Pittsburgh, PA (PRWEB) May 28, 2013
Glass block manufacturer, Pittsburgh Corning, is kicking off the 2013 hurricane season officially beginning June 1 by helping prepare storm weathered residents during Hurricane Preparedness Week May 26- June 1. Meteorologists are predicting an upcoming active storm season, with 16 storms expected to form in the Atlantic, with 8 of those being hurricanes according to AccuWeather. Pittsburgh Corning is urging families to be ready for a storm before it approaches with their Hurricane/Impact Glass Block Windows. Ideal for residential and light commercial applications, the hurricane-resistant windows protect against flying debris and hurricane-force winds, and offers greater security than conventional windows.
"Anyone who's ever experienced a hurricane knows that while hurricane-force winds are powerful, the real danger comes in the form of flying debris," says Mary Lynn Bruce, Marketing Manager for Pittsburgh Corning. "Our Hurricane/Impact Glass Block Windows meet the large missile impact tests referenced in the International Building Code and Dade County Approval Protocols, and they're approved for use in coastal areas making them the perfect solution when you want beauty and function that will weather any storm."
Hurricane/Impact Glass Block Windows are available as a pre-assembled window for easy installation. Pittsburgh Corning's Hurricane Windows block out the elements while letting in soft, natural light for an enhanced visual space experience. With 60 sizes, three unique design patterns and a range of visibility and privacy options, the hurricane-resistant windows provide beauty, security and peace of mind.
Additional benefits of the hurricane-resistant windows include:

No need for shutters
Graffiti-resistant, breakage-resistant and easy to clean
Noise reduction
For more information on the Hurricane Window and other glass block products that can enhance the beauty and security of a home, visit http://www.pittsburghcorning.com.
About Pittsburgh Corning Corporation
Pittsburgh Corning is the leading manufacturer of premium glass block products and specialized architectural window systems for commercial, institutional, government and residential buildings. Glass block products are extraordinarily versatile, providing design options and daylighting while keeping people and property safe and secure. Since 1937, Pittsburgh Corning has been on the forefront of innovative applied glass technology, designing products that stand the test of time. Headquartered in Pittsburgh, Pennsylvania, Pittsburgh Corning is an equity affiliate of PPG Industries, Inc. and Corning, Inc.