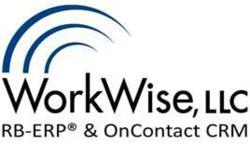 We are honored to be among an elite group of CRM vendors to have the distinction of being named a "Top 15" award winner
Menomonee Falls, WI (PRWEB) May 21, 2013
WorkWise, LLC announced today that its OnContact CRM application (http://www.oncontact.com) was selected by ISM Inc., Customer-Centric Business Strategic Advisors, as a Top 15 CRM Enterprise and Small & Medium Business Software Award for 2013*. This is the thirteenth time that ISM has selected OnContact CRM to its Top 15 Award roster.
OnContact CRM was chosen after intensive testing by the ISM Software Lab at its Bethesda, Md.-based headquarters. Each package was rated according to 209 selection criteria, including 98 business functions, 48 technical features, 36 implementation capabilities, 10 real time criteria and 17 user-support features.
"We are honored to be among an elite group of CRM vendors to have the distinction of being named a "Top 15" award winner for the 13th consecutive year," said Wayne Wedell, president of WorkWise, LLC.
"OnContact CRM is to be praised for obtaining the Top 15 honor as ISM's software selection process is strenuous and comprehensive," said Barton Goldenberg, president, ISM. "OnContact CRM is a leader in the fast-paced CRM industry."
ABOUT WORKWISE, LLC
WorkWise, LLC provides Customer Relationship Management (CRM) software solutions and Enterprise Resource Planning (ERP) along with comprehensive implementation and support services. Our exclusive offerings, OnContact CRM and RB-ERP® comprise our trademarked Role-Based suite of applications which are engineered and tailored around actual roles found in the workplace. Use of OnContact CRM and RB-ERP software applications enable users to enhance efficiency by performing their jobs in less time with greater accuracy and improved proficiency.
OnContact CRM, which is offered with either a hosted or on premise deployment, is an award-winning, browser-based CRM solution. As a full-featured, customizable application suite that automates the sales, marketing and customer service areas of companies, OnContact CRM has been awarded the TopTenREVIEWS Excellence Award in recognition of its unique design and superior features.
RB-ERP offers make-to-order, repetitive and mixed-mode solutions to manufacturers to shorten cycle times and optimize manufacturing information, supply chain management, and manufacturing execution and planning. RB-ERP enhances operations by taking time out of the business processes and increasing value-add in products and services.
In addition, WorkWise has pre-configured integration between RB-ERP and OnContact CRM, which is unavailable from other ERP and CRM suppliers.
WorkWise is headquartered near Milwaukee, WI and has been inspiring companies to achieve new levels of success for over 30 years. For the last 3 years, WorkWise was recognized by the Milwaukee Journal/Sentinel for being a "Top Workplace" and also recognized by The Business Journal for being one the area's "Healthiest Employers" for two consecutive years.
To learn more, visit http://www.workwisellc.com.
ABOUT ISM
Founded in 1985 and headquartered in Bethesda, MD, ISM Inc. provides customer-centric business strategy services to organizations planning and implementing CRM, Social CRM, Social Media and Data Analysis & Insight initiatives. Clients include best-in-class organizations such as ExxonMobil, Giorgio Armani, IBM, Jaguar Land Rover, Kraft Foods, Marriott, McGraw Hill, Nike, PepsiCo, Roche, Samsung, Schlumberger, Zumba Fitness and more. Barton Goldenberg, ISM's founder and president, is a respected author, columnist, speaker and industry leader, including being one of the first three inductees in the CRM Hall of Fame. To learn more, go to http://www.ismguide.com.