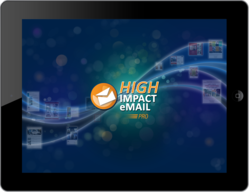 It's like getting 3 great apps for the price of 1: a great groups manager, excellent image editor, and awesome email designer/sender!
Cambridge, MA (PRWEB) May 22, 2013
KMT Software has just recreated their top-selling High Impact eMail product for the iPad. Originally developed for Personal Computers, and with a user base of over a half million small business owners, High Impact eMail has been a staple of small business marketing for over half a decade. Now, High Impact eMail gives the ever-growing community of professional iPad users an unusually powerful and stylistic way to communicate with their friends, colleagues and prospects.
With High Impact eMail, users can:

Choose from over 75 studio-quality email template designs
Modify text with the easy-to-use keyboard and Siri-compatible editor
Create and save an unlimited number of email groups
Design emails that render perfectly, with or without images, across clients like Outlook, Gmail, Yahoo, Gmail, iPhone, and Android
Email using HTML best practices – with HTML text and referenced images.
Use the image editor to auto-size, auto-crop, and insert stored images or photos taken on-the-fly with the iPad Camera
Generate text, stickers, elements and other special effects to add to the images you place in your emails
Upload images to highly secure High Impact eMail servers with no need to set up a separate account
Have access to hundreds of additional template designs through low-cost template packs
Save one or more profiles that automatically populate designs with common information like links, contact info, logo, personal portrait, social media and more
Use the MyMark signature tool for adding a handwritten signature to your stationery or email using your finger or stylus to create your signature
Share completed emails on Facebook and Twitter
For more information, watch the short video demonstration here: Video
High Impact eMail is designed for the large and growing number of individuals who rely on their iPad for important personal and business-related tasks. Real Estate agents, sales reps on the go, small business owners, independent agents, and general iPad users will all find value in this application. At the very affordable $4.99 for the PRO version, High Impact eMail will appeal to both personal and business users who want to add a professional touch to their emails.
While there are iPad applications that help users manage contact groups and send images, High Impact eMail is the first email designer to perform all of these functions collectively.
High Impact eMail is available for purchase at the iTunes Store. A free version of High Impact email is also available for personal, one-on-one correspondence.
About KMT Software, Inc.:
KMT Software was established in 1991 and currently encompasses three software brands: TemplateZone, High Impact eMail, and High Impact Designer. TemplateZone produces desktop software and is the world's leading supplier of studio quality HTML email template designs as well as exhilarating print marketing designs. High Impact eMail is an iPad Application created to allow users to design and send emails to groups on their mobile device. High Impact Designer is a suite of online marketing tools for Facebook, Email, and Landing Pages. With a community of over 2 million users, KMT Software is committed to helping small business professionals be more productive.