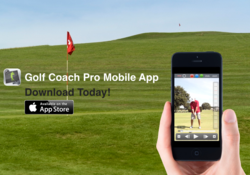 Boca Raton, FL (PRWEB) May 28, 2013
Athletic Improvement Company announced the release of its Golf Coach Pro Mobile app for iPhone, available for download from the iTunes store. It is with an introductory price of $3.99 that Golf Coach Pro Mobile app enables players to record, analyze, and compare their swings from one practice to the next or even against an inventory of pro players' swings.
Youth golf coaches in Florida and Alabama already using the app report impressive improvement. Player's swings are filmed at the beginning of the lesson and then again at the end with noticeable improvement.
The Golf Coach Pro Mobile app, developed by Athletic Improvement Company's CEO Ryan Ditthardt says, "Anyone involved in golf knows how much work it takes to keep your swing feeling right. Filming and analyzing your swing gives you the opportunity for instant swing improvement."
The Golf Coach app users can compare their own swings side by side with professional players such as Boo Weekley, Ben Bates and Maude LeBlanc, giving them the ability to learn from the greats and become more consistent golfers. More tour golfers will be added to the app over the coming months. The Golf Coach Pro Mobile app is, "the Golf Coach in your pocket," and can be used by athletes, coaches, parents, or friends for instant coaching sessions no matter where they are.
The Golf Coach Pro Mobile app is priced at $3.99 and is available from the Apple iTunes app store in the Sports section.
Golf Coach Pro Mobile App's Key Features:

Record New Swing
Analyze a Swing
Compare Swing
Purchase Pro Swings
Easily Share Swings
View Swing History
Add Friends Within App
View Friends Swings
Link: https://itunes.apple.com/us/app/golf-coach-pro-mobile/id600598256?mt=8
Device Requirements:
iPhone 3Gs or higher
iPad 2 or higher
Pricing and Availability:
The Golf Coach Pro Mobile app is $3.99 (USD) for the iPhone. It is available worldwide exclusively through the App Store in the Sports category.
About Athletic Improvement Company:
Headquartered in South Florida, Athletic Improvement Company is developing Apps for Sports. The Golf Coach Pro Mobile app is released following two other apps, the Baseball Swing Trainer-iRake and Softball Hitting Coach apps.
Apple, the Apple logo, iPhone, iPad and iPod are registered trademarks of Apple Computer Inc. in the U.S. and/or other countries.
Contact iRake:
info(at)golfcoachpromobile(dot)com