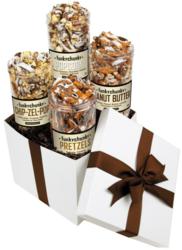 "Funky Chunky, LLC, will use the knowledge, vision, resources, and management expertise of Consolidated Investment Group to grow FunkyChunky into a successful national brand," said David Merage, CEO and Principal, CIG.
Denver, CO (PRWEB) May 30, 2013
Gracious Gifts, Inc. was founded in 1994 in Minneapolis, MN by entrepreneur and creative artist, Ronni Feuer who developed FunkyChunky®. Known for its high quality ingredients and hand-made approach, FunkyChunky Chocolate Caramel Popcorn quickly became a favorite gourmet snack. Under the leadership of Ronni's husband, Sandy Feuer, FunkyChunky has grown to include new flavors such as ChipZelPop, Candy Cane Popcorn, Sea Salt Caramel Popcorn, Peanut Butter Pretzels, and Fix-Mix, many of which contain all natural ingredients. Ronni's vision will continue under the new leadership with a percentage of proceeds from the sale of "Ronni's Popcorn" benefiting women who struggle with breast cancer across the nation.
Consolidated Investment Group (CIG) is an entrepreneurial company that manages a diverse portfolio of investments in private equity, capital markets, real estate, and philanthropy. David Merage, CEO and Principal, co-founded Chef America, a national frozen food manufacturer known for inventing and marketing Hot Pockets®, Lean Pockets®, and Croissant Pockets®. Upon his exit from Chef America, the company was growing at a rate of 15% per year, making it one of the most successful food companies in the world.
CIG's direct investment division acquires food and beverage manufacturing companies all over the country and utilizes its strong experience and resources in the field to nurture the growth of strong products and brands.