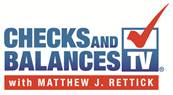 There are massive amounts of misinformation circulating about fixed indexed annuities
Nashville, Tenn. (PRWEB) May 21, 2013
Matt Rettick, founder of Checks and Balances TV, author and acclaimed speaker, presented to the agents of National Agent Alliance (NAA) at a conference April 18th, 2013 in Los Angeles, Cali. on sales and marketing strategies for the "New Financial Reality." The success of the west coast presentation led Rettick to be invited to present the following week in Charlotte, NC to NAA's east coast agents.
In his 2-hour training programs, Rettick taught the more than 1,000 licensed insurance agents how to understand and present fixed indexed annuities. Rettick equipped them with the information necessary to accurately depict the product and its unique combination of safety and stock market-linked growth to the clients and prospects they serve. He further trained on the variations to the product, including the crediting methods, participation rate, spread and caps to consider before recommending a product and helping a client to make an informed decision. He provided third party support materials for advisors to use to further explain fixed indexed annuities and the benefits to their clients. Sources included the FDIC Annual Report, Government Accountability Office reports on the products and retirement income strategies, as well as excerpts from known financial authors such as Suze Orman.
"There are massive amounts of misinformation circulating about fixed indexed annuities," said Rettick. "I was pleased to be able to provide NAA agents the truth about this misunderstood insurance vehicle so they can best serve their clients." Rettick believes that all Americans, not just insurance agents, should have the facts about common financial products, and offers a free report – "The Truth About Fixed Rate Annuities" – that gives you the unbiased truth you need to make an informed decision about this popular insurance product, available on his website, http://www.ChecksandBalances.TV.
Founded in 2002, National Agents Alliance is an independent marketing organization helping independent agents succeed in the competitive insurance industry. By providing high quality products and state-of-the-art lead programs, NAA has become one of the largest associations of agents in the industry, as well as the #1 seller of mortgage protection insurance. Its emphasis on personal relationships and focus on clients needs have been the keys to its success, with agents in all 50 states.
Rettick, the visionary and host of Checks and Balances TV, is an accomplished author, recognized educator, sought-after speaker and advocate for personal finance and "longevity planning" for retirement. He has been featured on several national television programs including NBC's Today, Fox & Friends, Fox Business and more. Rettick also co-authored the book Fiscal Fitness: 8 Steps to Wealth and Health from America's Leaders of Fitness and Finance with the late famed fitness guru Jack LaLanne. Fiscal Fitness is dedicated to teaching Americans how to gain and maintain control of their physical and financial well-being and improve their quality of life, both now and as they age. His second book, All The Rules Have Changed: What You Must Do to Succeed in a New Financial Reality is due out early summer of 2013.
ABOUT CHECKS AND BALANCES TV
Checks and Balances TV (CBTV) is America's #1 source for balanced financial advice. Through its weekly news program and interactive website, CBTV provides viewers and users free access to a variety of informative videos and podcasts, downloadable reports, tips, tools and techniques and more to help consumers achieve financial freedom and retirement success. Become a 21st Century Investor, prepare for a Debt Free Retirement and discover what is Financial Fact or Fiction on http://www.ChecksandBalances.TV. The show's host, Matthew J. Rettick, the "Man with the Plan," gives you the truth you need to financially succeed Fridays at 4:00 p.m. EST. Log on, tune in, download from and interact with Checks and Balances TV, where financial truth and balanced advice finally meet.
The founding sponsor of Checks and Balances TV is American Equity Investment Life Insurance Company. To learn more about American Equity, visit http://www.American-Equity.com or call (877) 633-6417.