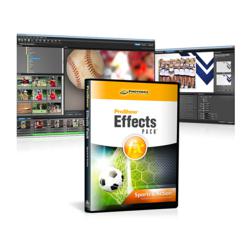 From sports photographers to proud parents on the sidelines, more and more digital photos and videos are being captured at sporting events
Austin, TX (PRWEB) May 22, 2013
Photodex today announced the release of their new Sports & Action Effects Pack for ProShow, an award-winning slideshow tool that lets people easily combine photos, video clips and music into a polished video.
The first of its kind, the Sports & Action Effects Pack stacks its lineup with a combination of slide styles and transitions, offering a well-rounded powerhouse of premium effects for sports slideshows. The pack includes a dynamic array of sporty transitions, edgy photo layouts and titles, and digital 'player stats' cards, ideal for photographers covering an end of season wrap-up, a game victory, or team portrait showcase.
Unique to this Effects Pack is the option for users to customize the colors for select slide styles to coordinate with their team's colors. Also included are digital 'player stats', reminiscent of old school trading cards, that can be customized to profile an individual athlete or team. The stats include editable fields for player and team names, position, coach, hometown and more. The Sports & Action Effects Pack covers 15 major competitive athletic and performance categories.
"From sports photographers to proud parents on the sidelines, more and more digital photos and videos are being captured at sporting events," said Paul Schmidt president and founder of Photodex Corporation. "ProShow makes it easy to turn those digital files into shareable memories. Our new Sports & Action effects pack offers up some fun and energetic animations that can really amp-up sports slideshows."
Pricing and Availablity
The Sports & Action Effects Pack is available now for $19.95. Available for download or on disc from http://www.photodex.com or by calling 1-800-37-PHOTO (1-800-377-4686). Requires ProShow Gold 5, ProShow Producer 5 or ProShow Web.