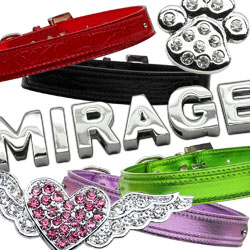 We were so happy we could find it for her.
Houston, TX (PRWEB) May 21, 2013
Doggy In Wonderland is an online pet boutique that aims at providing excellent customer service and high quality pet products. Part of their focus is on listening to customers about what their dogs and/or cats like or what they need or want for their dogs and cats. If they can find what their customers are looking for, and if it falls into their goals for Doggy In Wonderland, they will add it to their product line so their customers can have what they want. They have achieved this goal several times recently.
Doggy In Wonderland will have a booth with an assortment of their products at the Dallas Pet Expo on June 8, 2013.
Two items recently added to Doggy In Wonderland's wide range of products are pet carriers. They attend pet events around their local area, and several customers asked about Pup Packs where the doggy's legs hang out front. They were also asked about Reversible Sling Pet Carriers. "We searched for these items at the best price possible. When we took them to the next event, we sold out! We had people coming up and asking for them because they saw ones that earlier customers had purchased. We went right home and ordered more so we could keep everyone happy," one managing partner shared.
Another customer was searching for a bicycle pet basket to hold their pug who was out of the normal weight range for the bicycle pet carriers that they already had in their product line-up. "We looked all over, and finally found just the what she wanted. A rear mount bicycle pet seat that holds up to 24 pounds. "We were so happy we could find it for her," the managing partner expressed.
The most recent additions to Doggy In Wonderland's ever growing product line are dog collars with charms. These collars allow for charms of all kinds from letters, to stars, to bones, to paw prints to slide onto the collar for extra decoration. "We had already been looking into this type of thing when we had a request for these over the weekend. We have now added them to our product catalog, and we are excited about these collars and charms. They will definitely add some bling to any dog's look," said another managing partner.
About DoggyInWonderland.com: DoggyinWonderland.com is a leading online pet boutique offering a wide array of pet accessories and other products for dogs and cats. This includes a full line-up of chic dog products such as stylish dog clothing, collars and leashes, pet furniture and dog beds, eco-friendly pet gear, healthy dog treats, dog toys, pet carriers, and a growing collection of cat products as well. Their goal is not only happy and healthy pets, but also 100% customer satisfaction. Call 866.280.1818 for more information, and see the full product range at DoggyinWonderland.com.