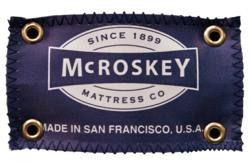 McRoskey Mattress is hoping to send the message that nothing can cradle your dreams quite like a McRoskey.
San Francisco, Calif. (PRWEB) May 21, 2013
For 114 years, McRoskey Mattress Company has been hand-crafting some of the world's most comfortable mattresses and box springs. Now, the venerable Bay Area manufacturer is crafting a new brand identity.
Through a series of playful print ads, a website overhaul and a new logo that speaks to the company's hand-made heritage and Made-in-San Francisco pride, McRoskey Mattress is hoping to send the message that nothing can cradle your dreams quite like a McRoskey. The rebranding effort coincides with the third-generation-run company's 114th birthday.
"Our customers have always known that McRoskey mattresses are incredibly comfortable. What they might not know is that they are made by hand, made right here, and some people will go to extraordinary lengths to sleep on theirs every night," says McRoskey Mattress President Robin McRoskey Azevedo, the third generation of McRoskey to run the company.
The new ads, a combination of hand-drawn illustrations and photography, show just how extraordinary. In one, a mountain climber hikes up a peak, while a Sherpa-like guide behind him carries the hiker's McRoskey. In another, guests arriving at posh hotel are accompanied by a McRoskey-toting bellhop. (Fortunately, some hotel guests don't need to do bring their own, as four Bay Area lodges have McRoskeys in every room).
"There's a whimsical quality to the ads. They'll hopefully inspire a knowing smile as they reinforce the fact that people are just absolutely attached to their McRoskey. That's why they buy them again and again, and why families have one generation after another still buying McRoskeys," says Carolyn Goodman, president and creative director of San Rafael, Calif.-based Goodman Marketing Partners, the agency that conceived the rebranding effort.
McRoskey's long history and hand-crafted heritage are evoked in its new logo, an image of the label that's stitched on every McRoskey Mattress. The "sewn-on" emblem, complete with grommets, bears the well-known elliptical company logo, along with the words "Made in San Francisco, U.S.A." prominent underneath.
"We're exceptionally proud to be a part of the fabric of this city. My grandfather was one of the only mattress makers still operating and supplying mattresses following the 1906 earthquake," says McRoskey Azevedo.
The new website, meanwhile, which bears the same URL (http://www.McRoskey.com) is cleaner and easier for visitors to navigate, letting them quickly find more information on comfort options and how a McRoskey is made. McRoskey.com also incorporates bold new imagery that reinforces the message of comfort while dispelling the notion that although it is over a century old, McRoskey is not an old-fashioned company.
About McRoskey Mattress Company
McRoskey Mattress Company has long been a staple of the San Francisco business community, manufacturing sumptuous mattresses and box springs by hand since 1899. In its third generation of ownership, McRoskey Mattress offers a variety of mattresses and box springs made to order using the finest materials and hand-crafting techniques that have been meticulously refined for over a century. McRoskey has showrooms in San Francisco and Palo Alto, Calif. For more information, visit http://www.McRoskey.com or call the showrooms at 415-861-4532 (San Francisco) or 650-327-1966 (Palo Alto).
About Goodman Marketing Partners
Goodman Marketing Partners is a full-service, multi-channel marketing company with offices in San Rafael, Calif. and Philadelphia. Comprised entirely of senior marketing specialists, the firm creates, designs, develops, and executes a full spectrum of innovative marketing solutions both online and offline. Current clients include Aon Affinity Insurance Services, Gente Oil, McRoskey Mattress Company, PENSCO Trust, Richard Avelar & Associates, and SEI. The firm, included on the Inc. list of "5000 Fastest Growing Private Companies in America," is also a certified woman-owned business. For more information, visit http://www.goodmanmarketing.com.