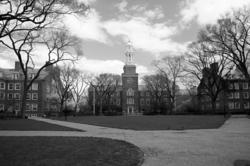 Ellen Fisch's architectural art photography gives a sense of timelessness and of place.
New York, NY (PRWEB) May 21, 2013
Prior to guiding a recent photo tour of Brooklyn College, Photographer Ellen Fisch traversed the campus in search of iconic examples of architecture to point out to the participants of the upcoming tour. In criss-crossing the campus with her photography gear, Fisch again rediscovered many of the architectural details and buildings that she had admired while attending Brooklyn College in the 1960's. Preceding the tour, Fisch shot approximately 500 photographs. Several of these black and white architectural images were used to illustrate the handout booklet Fisch wrote for her photo tour group. The photographs featured in Ellen Fisch's guide book and many others were carefully culled for the images representing Brooklyn College that were showcased on her site recently.
The new Brooklyn College section of Ellen Fisch's body of architectural art photography currently exhibited on her website gives the viewer a sense of timelessness and of place. Fisch encourages the members of all of her tours in the NYC area to shoot images that will represent their own impressions of a location. "Leading a photo tour is a wonderful way for me to become familiar with an area and to be inspired for future projects. I am really observant and critical when I photograph a specific place before a tour because I am looking at architecture in multiple ways: through the eyes of all of the tour participants. My tour members are a distinct part of my creative process as an artist." Ellen Fisch is an experienced guide and teacher as well as a highly regarded professional photographer. She emphasizes that in providing tips and information about photography to others, she gains great insights into her own photography.
"Writing special and specific handout booklets with architectural black and white photographs for each tour provides an opportunity for me to create unique photography essays about neighborhoods or locations all around NYC," says Photographer Ellen Fisch. These photographic studies of places are featured on Fisch's website or exhibited in galleries, museums and public spaces. Interior decorators also purchase Fisch's black and white and sepia photographs for clients who love photography or desire to look at a place they esteem and cherish. "It is gratifying to me that people admire my photographs and that other photography enthusiasts can share their passion for photography with me," remarks Fisch of her recent Brooklyn College photography tour and the photographs that resulted.
Just after the tour, Fisch posted a number of her black and white and sepia photographs of Brooklyn College on her site along with the photography tour hadout. "I like to post my own photographs after the tour," notes Fisch. "In that way, I am not influencing members of my group to see a place through my perspective." The tag line of Ellen Fisch Photo Tours is "Through Your Lens" and that is exactly what Fisch encourages: self-expression.
The photographs of Brooklyn College that were posted on Photographer Ellen Fisch's website are intended to capture the essence of the campus through the photographer's eyes. "Brooklyn College is a beautiful place. The brick buildings, wrought iron and glass lanterns, classic window and door frames and the stunning landscaping offer much inspiration for my images." After shooting numerous images, Fisch decided to include 10 black and white, 2 sepia and 2 color photographs to express her impressions of one of CUNY's most beloved colleges.
The images were very well received by a number of admirers of black and white and sepia photography. "I am gratified that my photographs of places give people pleasure when they look at the images," says Fisch. Not only were the photographs that Fisch presented appreciated, but shortly after the tour one tour member wrote to Fisch saying: "I loved your photography workshop. You opened my eyes to a new and more exciting way of viewing architecture. In the photos I've taken, as a result of your class, I can better focus on angles, contrast of shape and design and solid in relation to detail. It's no longer 'just a building.'" Ellen Fisch was honored and delighted with this reaction to her photo tour of Brooklyn College and is making plans for future photo tours which will also present new opportunities to express her own artistry.
About: Ellen Fisch is a New York based architectural art photographer specializing in black and white and sepia photography that is artistically expressive, historically relevant and timeless. Recently Ellen Fisch has included pencil, charcoal, pastel and 24K gold leaf in her black and white and sepia architectural art photography.
Ellen Fisch Photo Tours around NYC are geared to novices and professionals alike who have a passion for photography and architecture. To learn more about her NYC photo tours, contact Ellen Fisch through her web site http://www.ellenfisch.com
To learn more about Ellen Fisch and her continuing exploration of photography and art visit: http://www.ellenfisch.blogspot.com
###