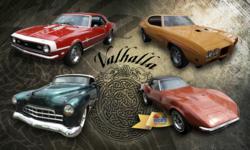 For many in the classic car restoration industry, Memorial Madness signals the official start of the car show and cruise night season…
Blairstown, NJ (PRWEB) May 20, 2013
Each year the Hackettstown Rotary Memorial Madness Car Show at M&M Mars - 800 High Street, Hackettstown, NJ - brings out hundreds of classic cars from across New Jersey, New York, Pennsylvania and beyond. On Sunday, May 26, 2013 from 9am-3pm thousands of automotive enthusiasts are expected to view the hot rods and classic cars, enjoying celebrity involvement with car enthusiast Butch Patrick, famed for his role as Eddie Munster in the TV series, "The Munsters".
For Valhalla Auto Restoration & Fabrication, the event offers the opportunity to roll out recent work including a 1970 GTO "The Judge" edition, a 1969 Camaro, 1965 Ford Mustang, 1968 Corvette and a custom 1948 Cadillac.
Says AJ Biancone, owner of Valhalla Auto Restoration & Fabrication, "For many in the classic car restoration industry, Memorial Madness signals the official start of the car show and cruise night season… and I get to see my clients enjoying their prized cars and winning awards, like the 1969 Camaro and the NCRS Top Flight Award-Winning 1968 Corvette."
In its 19th year, the Hackettstown Rotary has created the Memorial Madness event to attract top quality auto restoration and private collectors and enthusiasts to 19 judged categories, while offering a day of fun for the entire family (no dogs allowed). Look for Valhalla Kustom at the event and meet owner AJ Biancone.
About Valhalla Restoration & Fabrication
Founded by AJ Biancone in 2009, Valhalla Kustom provides full service auto restoration, repair, and maintenance in North Jersey. We specialize in muscle cars, Kustom hot rods, and classic stock restoration. Whether Corvette, Mustang, Camaro, GTO, Cobra, Challenger, Charger, or Cuda, we can completely rebuild from the ground up with a frame-off restoration, or provide basic repair and paint refinishing. Show winner or everyday driver, Valhalla provides outstanding quality and craftsmanship on all makes and models. Call Valhalla at 908-362-7158.