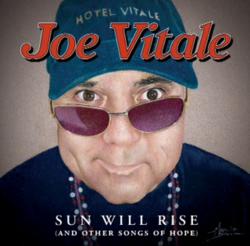 It's a gas guzzler's anthem.
Austin, TX (PRWEB) May 21, 2013
Joe Vitale, a positive thinking guru seen in the movie "The Secret," was an early adapter of the Fisker electric car. After a year and a half of frustrations, and now driving an orphan since the car company went bankrupt, the bestselling author turned grumpy car owner recorded a song to relieve his frustration.
"It's a gas guzzler's anthem," says Vitale, 59, who recorded the song 'My Electric Car' on his fifth album, "Sun Will Rise."
Owning this Fisker was a personal growth lesson, says the author turned musician. He says it taught him that complaining didn't fix anything.
"I attracted the car and I plan to un-attract it," he said. "Meanwhile, the song let me vent."
Vitale received his Fisker Karma in January of 2012. He went through numerous recalls, service issues, fire scares and more. He was asked to invest in the company early on, and says he is relieved he didn't do it.
"I won't be so eager to be an early adapter any time soon," he says.
Fortunately he also owns several gas guzzlers, including two Panoz Esperantes and a Spyker Laviolette.
"I prefer the roar of a gas engine over the hum of an electric car that even the designer abandoned," he said.
Vitale's music is on cdbaby under the album "Sun Will Rise." Or see the album's site at healingrockmusic.com.
**********************************
Dr. Joe Vitale
President, Hypnotic Marketing, Inc.
#1 Bestselling Author - "The Attractor Factor"
Star of the hit movie "The Secret"
Author of way too many books to list here
See http://www.MrFire.com
Member BBB 2003 - 2013