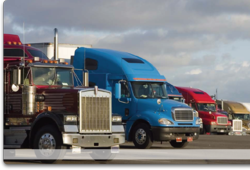 The newsletters are filled with sound advice, and the latest industry trends
Phoenix, Arizona (PRWEB) May 21, 2013
Since its inception in 1997, the Ahern Advisory Newsletter has been an indispensable resource for readers in the transportation business looking to improve their bottom line, lower operating expenses, and learn how to strive in spite of the difficult economic times. Now, having grown to its current readership of nearly half a million people, the transportation newsletter's considerable influence can be felt across the transportation industry.
Pioneered by Ahern & Associates' CEO, Andy Ahern, the newsletter is offered completely free of charges and in addition to the regular e-mail distribution they are also available to read at any time on the Ahern & Associate's website. The newsletters are filled with sound advice, and the latest industry trends—all presented with the direct, and to the point attitude that has powered Ahern's rise in the industry. The newsletter's ability to consistently deliver valuable information is what has kept thousands of readers coming back year after year.
In addition to the newsletter, Ahern produces a video podcast every week, with valuable insights into the transportation industry where he discusses new developments, trends and provides analysis and advice for owners and managers in the trucking and logistics industry. The podcast has been running weekly episodes since 2009 and for many across the industry is just as indispensable a resource as Andy's newsletter.
To take a look at the Ahern Advisory, please visit: http://www.ahern-ltd.com/news/ahern_advisory.php. For more information on Ahern & Associates, please call 602-242-1030 or visit http://www.ahern-ltd.com.
###
About Ahern & Associates, Ltd.
Ahern and Associates is North America's leading trucking and transportation management consulting firm. The skilled consultants at Ahern and Associates specialize in mergers and acquisitions of trucking and logistics companies as well as the restructuring and evaluation of existing carriers that seek to increase operating efficiency and improve profitability. Since 1987, Ahern and Associates has aided hundreds of buyers in the acquisition of trucking and logistics companies throughout the U.S. and Canada as well as assisting many transportation and logistics companies in reducing their overall operating costs and increasing their profitability. For more information, please call 602-242-1030 or visit http://www.ahern-ltd.com.