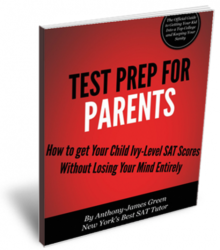 Parents play a much larger role in SAT prep than they might realize - this book teaches them how to do things correctly.
New York, New York (PRWEB) May 20, 2013
Anthony-James Green, widely known as New York's Best SAT Tutor, and author of Test Prep for Parents, has just released his book to the public as a complimentary download. Parents looking for advice on how to manage the SAT and college process can now download Green's book instantly via the following URL:
http://learn.teachyourselfthesat.com/test-prep-for-parents/
Test Prep for Parents was written over the course of Green's career, in which he's worked with over 330 families 1-on-1, and thousands more through his tutoring firm and curriculum publishing company. After watching the ways in which parents influence their children's successes and failures, Green decided to pen the book to help parents more effectively manage and enhance the process.
"When it comes to SAT scores, parents often don't realize how important their role truly is," says Green of his new book. Improper parenting during this period can lead to disastrous results. All this buzz about "tiger moms" and overbearing parenting has led to a horrible trend, in which parents actually discourage their students from achieving high scores, but THINK that they're helping. My book is based off 10,000+ hours of experience, and I've learned exactly what parents should and shouldn't do to truly get results."
Test Prep for Parents is only about 100 pages. Rather than discussing in-depth philosophies or long-winded theories, the book gets right down to the action steps - what parents need to do, in what order, to help their children get the best SAT scores possible. But the book isn't all about scores; it's also about creating a smoother, less stressful process that helps families to get along better during an otherwise tumultuous time period.
"Parents don't just want their kids to get high scores," says Green. "They want their kids to have opportunities for their future, and they want to give them those opportunities without seeming like an adversary. I can't even tell you how many people ruin their relationships with their children in the last year before their kids leave the house for kid. No one wants that, and this book is the antidote to that sort of behavior. Parents who follow the prescriptions within this book won't just have high-achieving kids - they'll also create a better relationship with them right when it matters most."
Green is releasing his book without charge to any parent interested in downloading it. His release is part of a larger effort to spread better test prep and college education throughout the internet. Green's self-study programs, released through his Teach Yourself the SAT project, have already helped numerous students to improve their SAT scores without paying for tutoring or SAT classes, and his recent partnership with Young Eisner Scholars has helped to put the program in the hands of students who can't afford traditional SAT prep, but who need more help with their SATs than almost anyone else.
Parents and students interested in learning more about Green's Teach Yourself the SAT program can do so here:
http://www.TeachYourselfTheSAT.com
"Previously, parents could only get this book by buying it online. However, after collecting feedback from parents and seeing the good that it can do, I just want to get it into as many hands as possible. I'm hoping this will do something to dispel harmful misinformation out there and help more kids to get into their dream colleges."
Green is the founder of New York's Best SAT tutor, where he charges $500/hour for his services, and is booked over 18 months in advance. He's the author of Test Prep for Parents and 100 Minutes to 100 Points, creator of the 30-Day SAT Crash Course and the 60-Day SAT Prescription, and also the creator of the wildly popular SAT vocabulary site Vivid Vocab. He has tutored over 330 students 1-on-1, with an average score improvement of over 400 points.
Green lives in New York and Los Angeles, where he tutors students for full time when not working on his Teach Yourself the SAT project.
###