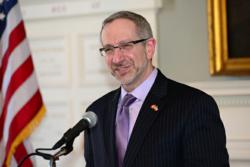 "For years I've watched foreign investors and start-ups gravitate to the same economic centers in the United States ... In doing so, they may be missing out on opportunities that hold enormous promise for them.
Portland, Maine (PRWEB) May 21, 2013
Atlantica Group LLC, an international business development firm based in Portland, Maine, is organizing a speaking tour focusing on opportunities for foreign investment in less well-known, less traveled markets in the United States.
The speaking tour, scheduled to begin in late September 2013, will acquaint foreign entrepreneurs, investors and start-ups with the benefits of locating in states and communities that may have a lower international profile but that hold exceptional promise nonetheless.
Atlantica Group's president, Perry B. Newman, will be speaking to audiences in N. America, and potentially in Europe and Israel, depending upon scheduling and availability.
"For years I've watched foreign investors and start-ups alike gravitate to the same, leading economic centers in the United States. It's true that Boston and Silicon Valley, for example, are iconic centers of technology development. But that doesn't mean they are the only places that can provide a welcoming, talent-rich, prosperous foothold for the foreign investor," Newman said.
"In fact, there are many states, regions and communities in the United States rich in expertise, venture capital and private equity. Others are home to established, high-powered companies interested in foreign business development and partnerships. Some of these communities have yet to develop a strategy for attracting foreign investment. Others don't know quite where to focus their efforts.
"The 'Other America' presentations will provide potential foreign investors with insights into markets they have not yet discovered, and will provide states and communities with the opportunity to be discovered and put on the radar screen of these potential investors.
Newman, an accomplished speaker and frequent presenter to audiences throughout North America, is keen to put the program together.
"This is a great opportunity for some states and communities in particular to get in the game. As well for foreign investors looking for less congested environments but enormous potential, this is the vehicle by which to learn more about these less glitzy but still very promising business destinations."
Scheduled to begin in mid-September 2013, "Other America" tour dates and locations are in the process of being developed. States and communities with an interest in being featured in the presentation are encouraged to contact Atlantica Group LLC at (207) 553-9228.
Foreign direct investors, economic development organizations and others working with foreign investors who may be interested in the locations and benefits offered by these "Other America" locations are also urged to contact Atlantica Group LLC directly at (207) 553-9228.
Founded in 2000, Atlantica Group LLC works with clients in N. America, Israel and Europe to develop international business opportunities in these and other markets.